These battleground states are where the real 2016 election race is taking place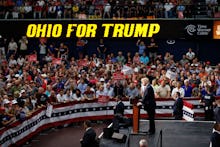 National polls suggest Hillary Clinton will beat Donald Trump by millions of ballots and hundreds of electoral votes. 
But running up the margin in safe Democratic states will not win Clinton the election. What matters is how she performs in a handful of key states. 
Because Trump and Clinton will begin Election Day with safe leads in many states, their campaigns are focused on winning states like Florida, Ohio, North Carolina and Georgia. During the campaign, Trump has predicted he will win states like California, Connecticut and New York — decades-long Democratic strongholds that polling gives Trump little chance of winning. Even places where Republicans hoped to be competitive, like Pennsylvania and Virginia, appear to be increasingly steep climbs.
Clinton has been less verbose about her plans, though she will reportedly run a 50-state strategy in a bid to create an electoral landslide. 
Here are four states that history, money and polling indicate could play the deciding role in whether Clinton or Trump will take the White House.
Ohio
Clinton is beating the self-described billionaire by about five percentage points in this must-win swing state for Trump. No Republican has won the White House without Ohio since Abraham Lincoln won in 1860. Many scenarios do not see a Trump path to victory without Ohio's 18 electoral votes, which Mitt Romney lost by more than 100,000 votes. 
The real estate mogul's anti-globalization economic message has resonated in some parts of the state, but he is expected to lose minority-populated urban areas by wide margins. Even before Trump's poll numbers dropped off following the conventions, a mid-July poll showed him drawing zero percent of Ohio's black vote.
Clinton spent $1.3 million on television advertising in Ohio in June. Trump bought his first ads of the general election last week, spending $716,000 in Ohio, but Clinton's campaign recently signaled millions more will be spent in the state by Election day. 
North Carolina
President Barack Obama shocked Republicans in 2008 when he made the traditionally Republican state go blue for the first time since 1976. Though North Carolina swung back to Republicans in 2012, Trump's low levels of support among minorities suggest the state is again in reach for Democrats. Polling currently gives Clinton a narrow lead in the state.
Both candidates have made swings through North Carolina, a state that is more than 22% African American. Trump hopes to run up large margins among the state's white voters to keep its 15 electoral votes in his column. But smelling victory, Clinton and a super PAC supporting her have spent millions of dollars on advertising in the state.
Florida
If Clinton wins Florida and the other states Democratic candidates have won for the past 24 years, she wins the White House. 
Nearly a quarter of the state's population is Hispanic, a minority group Trump has repeatedly insulted. Polling averages currently show Clinton leading by about five points, though recent polls have showed her beating Trump by as much as ten points. 
Florida has a notorious role in American elections. It has gone to the winning candidate in nine of the past ten elections. In 2000, George W. Bush narrowly beat Al Gore in Florida to clinch the presidency. Clinton has been campaigning and spending heavily to keep Florida's 29 electoral votes Democratic for months.
Georgia
The fact Georgia's 16 electoral votes are in play demonstrates the chance Clinton has to eviscerate Trump on Nov. 8. 
Georgia is home to former Republican House Speaker Newt Gingrich, two conservative U.S. Senators and a statehouse controlled by Republicans. A Democrat hasn't won the state in a national election since 1992, when Bill Clinton beat incumbent President George H. W. Bush in the Peach State.
Polls show Trump and Clinton effectively tied in the traditionally conservative state. The Atlanta metropolitan area, with a large African-American population that largely loathes Trump, has grown rapidly in recent years. More than half the state's residents live in Atlanta or its suburbs. If Donald Trump cannot keep Georgia's 16 electoral votes in his column, he has little hope of winning the White House.