When will Netflix have season 3 of 'The 100'? Expect a fall addition.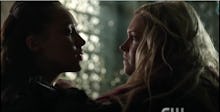 To those who have avoided spoilers — and news of a controversial death — about the third season of the CW's The 100, there's a silver lining: You'll eventually be able to binge the third season on Netflix. The key word here is "eventually," as the show's latest season has yet to make it to the streaming service. But when is that likely to happen? 
Based on when previous seasons of the series have been released on Netflix, fans should expect a fall return — specifically in October. According to Bustle, the show's second season made it to Netflix on Oct. 31, though without a specific release date for The 100's fourth season, it's difficult to pinpoint exactly when it will hit.
However — regardless of the release date — The 100 is going to be returning to Netflix, as the streaming service has a multi-year deal with the network. What's more, by the time the show's fourth season comes around, it could be available on Netflix even sooner. 
According to Variety, the CW and Netflix have agreed to stream the network's scripted series eight days after the show's season finale airs on TV. In other words, you wouldn't ostensibly be waiting for months for more content from shows like The 100 on Netflix.
In the meantime, be patient; you can put The 100's season three trailer on repeat. Just whatever you do, don't look up spoilers.