Restaurant closures are becoming increasingly common in the US — here's why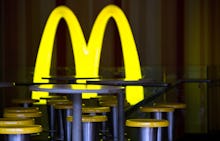 The restaurant business isn't exactly known for being easy. Keeping up with customers' tastes, reviving menus and managing a business that thrives on freshness and oftentimes quickness is a major challenge. 
Ruby Tuesday announced in August the closure of 95 underperforming restaurants by September, and Bob Evans announced it's closing 27 restaurants this year in addition to the 20 locations it closed in 2015. 
Even McDonald's, the largest fast-food chain in the world, closed 350 restaurants in the United States, China and Japan in the first quarter of 2015. And the beloved Señor Frogs closed in Times Square after a little over a year in business. 
So what's with all the closures? 
The 2008 recession led to Americans tightening their pocket strings, especially when it came to dining out in 2009 and 2010, according to the trade publication Nation's Restaurant News. With more people opting to cook at home instead of eating out, restaurants were bound to fail. Many chains and franchises claimed bankruptcy — including Quiznos and Sbarro —  during that time, and that just led to more problems.
Because so many restaurants closed in that period, other chains could easily move into the abandoned restaurants and expand. In the past few years, restaurants have been adding over 300,000 workers per years, NRN reported. As the same-store restaurants grow and private-equity investors flock to moneymaking names, sales are declining. And if the chains aren't actually growing, just spreading out, they're going to flop. 
"The problem with the restaurant industry is that weak chains can survive for years because they can generate cash and the brand name almost always attracts investors who try turning it around,"  Nation's Restaurant News reported. A MillerPulse report in June showed that traffic at both quick service and casual dining restaurants has been on the decline all year. People aren't visiting these restaurants and it's hurting their sales, which could mean even more mass closures in the future for many restaurants.
In July, analyst Paul Westra predicted that a restaurant recession is looming. Bloomberg reported that even major chains like Starbucks, Chipotle and McDonald's were not earning as much as analysts predicted, which is obviously not great for business. 
Pair bad restaurant sales with cheap groceries and you can see why more people may be choosing to eat at home rather than at restaurants. The price of groceries is down 1.6% since last year, the Washington Post reported, citing Bureau of Labor Statistics data, and many grocery stores are also offering prepared meals that directly compete with restaurant dishes.
Why are so many restaurants closing? Because people aren't going to them.