Kickstart that side racket and make some good, quick cash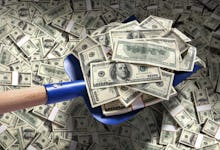 If the phrase "gig economy" reminds you of companies like Uber and Airbnb, it might also make you think of how much money you burn on it. But think again: You can use the gig economy to your advantage and make a side-hustle work for you. 
From 2000 to 2014, the number of freelance jobs increased by 500%, according to Paychex. The company examined over 400,000 resumes posted on job-finder site Indeed.com.
The proliferation of established "peer-to-peer" companies eliminates the need to specialize in an area before trying to make money in it.
"And because these platforms provide layers of trust, brand and expertise on demand, the need for specializing before you're qualified to become a provider is reduced," the Guardian's Arun Sundararajan wrote in 2015. "Almost anyone with talent can become a part-time hotelier through Airbnb or an artisan retailer on the side through Etsy."
In other words, these companies and platforms makes it easier for you to enter the market. 
Here are seven ways you can get paid without quitting your day job — or even having one in the first place.
1. Become a Jobbler. (No, that's not the name of a Hogwarts House.) 
Jobble is an app that connects businesses and freelance or part-time employees with each other. Businesses post a job description with an hourly rate and then Jobblers (the noun for Jobble workers) apply. 
The app is designed in such a way that employers can can get real-time feedback on their Jobbler's performance, optimizing efficient communication between both parties. 
"The company receives a list of available workers — called Jobblers — complete with recommendations and level of experience and expertise," the Boston Globe explained.
"Companies who use Jobble like the product because they can staff up or down with the click of a button. Workers like it because they get paid right away," the Globe added. 
You read that right: "Paid right away."
Estimated earnings: You can earn an hourly rate as high as $25. After providing Jobble a 20% convenience fee, you'll be making $20 per hour. Spending three hours being a Jobbler one afternoon would amount to an extra $60 in your pocket. 
2. If you want something a little more mindless or low-skilled, try TaskRabbit.
TaskRabbit, in essence, lets you do chores for people in exchange for quick, hourly payments. If you're worried you don't have the qualifications or experience to be a Jobbler, then this would be a good alternative. 
The kinds of things a TaskRabbit might do include cleaning, helping someone move, building Ikea shelves (the Rubik's Cube of furniture assembly), picking up laundry ... You get the picture. 
According to Peers.org, the average hourly rate is $48. And the Casual Capitalist cites an example of a part-time fixer-cum-furniture assembler who makes $3,000 per month. Not too shabby. 
Estimated earnings: At $48 an hour, even spending a couple of hours TaskRabbiting one weekend comes out to a little less than a Benjamin, at $96.
3. Teach people how to do things you're good at with Skillshare.
If you have a skill — literally anything from design to cooking to photography to writing to video editing — you can get paid to create a video tutorial on Skillshare. 
Don't let your secret talent (and love) of hemming pants go to waste: Share your smarts with the rest of the world.
You get paid for every person who watches your tutorial and, according to the company, the sum isn't nominal.
"Top teachers make up to $40,000 a year," Skillshare says on its website. "Plus, making classes is easy with our simple format and supportive community."
Estimated earnings: The average Skillshare teacher earns $3,500 a year, which is the equivalent of $291.66 per month. So making Skillshare part of a regular side gig could really pay off. Literally.  
4. Make weird shit and sell it on Etsy.
"Whoever you are, find whatever you're into," is aptly emblazoned across the Etsy homepage.
If you are naturally creative, this might be the side hustle made for you. Maybe you make your own headbands for yourself already — why not start selling them instead? Perhaps crocheting hats or making beaded bracelets are more your scene? There's demand for those, too. 
Beaded bracelets are commonly sold for about $26, so, if you're artistically inclined, think about all the cool shit you can make and then think about selling it. 
Estimated earnings: Let's say you only have the bandwidth for making one bracelet because you're so exhausted from making that Skillshare video on bracelet-making. You can buy beads for $3.70 and something to thread through your beads for $1.52, for example, equating a total of $5.22. Subtract that from the common bracelet price of $26 and you walk away with a $20.78 profit. 
Bonus: Make that bracelet WHILE you're recording your Skillshare tutorial. #Winning
5. Up your income with Upwork.
Upwork isn't too different from Jobble, but it's a little more specialized. It's essentially an online community of freelancers who offer comprehensive business support. There are six categories of jobs, including "Programmers & Developers" and "Designers & Creatives." 
"[Upworker] Danny Margulies ... catapulted from unemployment in 2012 to a freelance copywriter commanding as much as $250 an hour," Bloomberg reported in June. So it's safe to say the money's good if you've got talent.
However, don't be intimidated. There are some less specialized options, such as being a Google Docs wizard or knowing how to convert files into PDFs (both things you can easily learn using YouTube, for example). 
Estimated earnings: The average fee for freelancers offering services editing photos, for example, is $19.17 an hour. Again, spend a couple hours a month working on something you have a natural knack for and there's an extra $38.34 in your pocket. 
6. Earn an easy Fiverr — plus a lot more.
The basic premise of Fiverr is many of the tasks offered on their platform start at, you guessed it, $5. 
So, if you are good at doodles or designs, for instance, you can offer to make someone a logo. Many people have a starting price of $5 for basic services, but the price jumps up for additional and premium services — such as a 24-hour turnaround time or providing more than one concept.
Fiverr offers a range of services, demanding everything from specialized or technical skills to no skill at all. The simple gift of dulcet tones means you can charge someone for recording "any voiceover in an American accent." Someone else is already doing it, so why shouldn't you?
Estimated earnings: Okay, we're going to be generous here. Let's say you're so pooped from all your other side hustling that you only have energy left for one task: That still leaves you $5 richer. That pays for your next beer. 
7. Let strangers sleep in your bed for money ...
... But preferably don't be in the bed while you're charging — that's an entirely different kind of service. We're talking about the now-ubiquitous Airbnb.
In New York City, the average nightly Airbnb rental fee is $148, so, if you can get your shit together and tidy your place up, renting it out for a weekend could allow you to earn about $300. 
This is an ideal setup if you've got yourself a lover to stay with for a couple nights. Alternatively, go crash on a friend's couch. You can even offer them a cut of the earnings as incentive for their putting up with you. 
Estimated earnings: Say you only feel comfortable imposing on a friend for one Saturday night. That's still $148 for the month in exchange for a one-night sleepover. 
Total savings: Assuming your side-hustle game is on point and you're able to pull off all these suggestions in one month, you'll make a grand total of $659.78. 
But let's be conservative and eliminate Skillshare from the equation since that's the biggest time investment, and our estimate would demand some regularity — you'd still have an extra $368.12 for your piggy bank that month.
Cha-ching.