PS4 Neo: Preview, specs and expected release date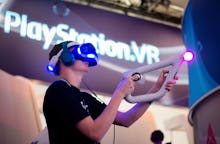 Sony is preparing to release two new consoles — PlayStation Slim and the PS4 Neo. Neither one has a confirmed release date, but the PlayStation Slim recently made headlines thanks to a barrage of leaked images and video that all but proved the system's existence. The PS4 Neo, however, remains shrouded in mystery. Both PlayStation consoles are expected to be unveiled at a Sony news conference on Sept. 7, but until then, let's take a look at the PS4 Neo and see what it could potentially offer:
Improved graphics and virtual reality capability
The PS4 Neo is rumored to be a high-end version of the standard PlayStation 4 that flaunts upgraded hardware as well as new technology like the upcoming PlayStation VR. While there is no confirmed evidence that the Neo includes virtual reality, Sony is implementing VR onto its base PS4 models, so it's likely the souped-up Neo would receive the same treatment.
The Neo will also probably feature ultra high-definition support, aka 4K resolution, which provides games and Blu-ray media with sharper images. The console will also generally run faster and smoother thanks to improved hardware specs, which Giant Bomb detailed in a report.
No Neo-specific games
Technological upgrades are nice, but to truly convince gamers to invest, you need new content, and it looks like the PS4 Neo will fall short in that regard. The Neo's supposed rival console, the Xbox One S — which arrived in early August — doesn't have any console-specific games. It stands likely to reason Sony's new model will follow suit.
Think of the Neo as a PS4.5. We're not quite ready for a new generation of consoles, but Sony wants to update the system's technology since the PS4 first arrived in 2013. If Sony developed Neo-specific games, the rest of the PS4 community with standard consoles or even the new PS4 Slim would be left behind. We can't see Sony justifying that strategy at this time.
Release date and price
These factors are hard to pin down at the moment. Many publications are almost positive Sony will introduce the Neo at the New York City event on Sept. 7, but a release date for the console remains a mystery until then. That being said, with the holiday season approaching and the comparable Xbox One S already on sale, Sony could and should market the PS4 Neo shortly after its reveal. 
As for a price, that's even harder to pinpoint. The current PS4 goes for around $350 on Amazon, and, in a report from the Wall Street Journal, an analyst predicted the PS4 Slim would be "less expensive than the current $350 device." The PS4 Slim will replace the base model as the standard console available for purchase, which means the higher-end Neo will probably cost at least $100 more considering its hardware advantages. It's anyone's guess at this point, but somewhere around the $400 to $450 mark seems plausible.
One thing is almost certain: The lid will be blown off at the Sony press conference in September. Mic will keep you updated.