Stephen Colbert ripped Ryan Lochte apart in this legit, definitely not edited interview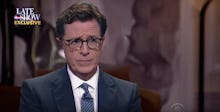 Olympic swimmer Ryan Lochte came clean with an apology on Friday after getting caught in his own elaborate web of lies spun from claims he was robbed at gunpoint one night in Rio. 
But as remorseful as an Instagram apology post might be, The Late Show host Stephen Colbert wasn't quite ready to let the disgraced athlete off the hook.
Editing-in footage from an interview Lochte did with Today's Matt Lauer earlier this week, Colbert called Lochte out on all of his bullshit in a segment Monday night.
"I want to give you a chance to clear up some things," said Colbert, reminding Lochte of the main plot point of his original story — that a gun was held to his head.
"That didn't happen, and that's why I over-exaggerated that part," interjected a spliced-in Lochte. 
"That part is really the whole part," retorts Colbert. "Without a gun cocked to your forehead, it's really just a story about some guys urinating on a gas station."
As Colbert does his best to figure out how Lochte could have gotten so darn confused about the events of that night — which included Lochte and teammates Jack Conger, Gunnar Bentz and Jimmy Feigen vandalizing a Rio gas station — Colbert can only seem to get one explanation from him.
"I was intoxicated," says Lochte. 
And what about three days later, when Lochte kept up the ruse?
"I was still intoxicated." 
Colbert continues his line of questioning, conducting a rudimentary sobriety test on the virtual Lochte and checking to see if he can identify a real firearm. But all bets were off.
"Describe for me, describe for the audience, the Ryan Lochte we can expect to see at the Olympics in Tokyo in 2020," asks Colbert.
Lochte says simply, "Intoxicated."