Russian intelligence likely hacked the 'New York Times,' CNN reports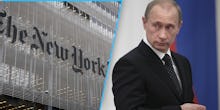 Reporters are always trying to stay one step ahead the organization they cover, gathering secrets and speaking confidentially to major politicians and political players. So if a malicious hacker wanted access to political secrets and couldn't get to the source itself, journalists are a ripe target.
The FBI is investigating a series of cybersecurity breaches of the New York Times and other news organizations, CNN reported Tuesday. 
According to CNN's intelligence sources, the attacks are part of a growing wave of espionage on behalf of the Russian government against groups like reporters and think-tanks in order to gather information about the U.S. political system.
This news comes shortly after the hack on the Democratic National Committee, which exposed DNC officials to so much embarrassment that DNC Chair Rep. Debbie Wasserman Schultz was forced to resign. Though the FBI hasn't openly revealed the source of the attack, FBI insiders have credited it to Russian intelligence.
After the DNC hack, Donald Trump called for Russian intelligence to increase its espionage against the United States, apparently hoping that more humiliating disclosures could help him win the election.
"Russia, if you're listening, I hope you're able to find the 30,000 emails that are missing," Trump said. Right-wing media said Trump was joking, but national security experts didn't think so.
Mic reached out to the FBI and the New York Times and will update if we get a response.
For more information on the dangers of Trump's pro-Putin rhetoric, watch our video explainer below: