Corey Lewandowski says Trump can't speak in black communities because it's not safe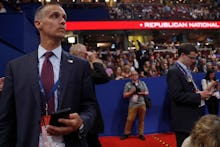 Donald Trump's former campaign manager Corey Lewandowski, who left this year's presidential race amid allegations he assaulted a reporter but is still collecting Trump payroll as a CNN analyst, offered an unusually honest take on his boss prefers to talk about black America to white audiences on Monday.
According to Lewandowski, Trump can't actually go to black neighborhoods and talk to people there because it's not safe.
"You know what's amazing to me is that no one remembers Donald Trump went to go have a rally in Chicago at the university," Lewandowski told a CNN panel on Anderson Cooper 360. "And remember what happened? It was so chaotic and it was so out of control that the Secret Service and the Chicago Police Department told him you cannot get in and out of the facility safely. And that rally was cancelled."
Multiple 360 panelists tried to tell Lewandowski that a specific incident was irrelevant to Trump's limited contact with the broader black community, to no avail.
"Look!" Lewandowski shot back. "That is a black community. He went to the heart of Chicago to give a speech to the University of Chicago in a campus that is predominately African-American to make that argument. And you know what happened? The campus was overrun and it was not a safe environment."
When contributor Angela Rye told Lewandowski black people are not "monolithic," Lewandowski responded, "So whose fault is that that that particular event in Chicago was completely destroyed?"
At this point, there's not much Trump could do to appeal to black voters. According to the International Business Times, a recent NBC News/Survey Monkey poll found Trump has the support of just 8% of black voters, while in some swing states, it is no exaggeration Trump's black support is literally coming close to zero.
Trump has recently attempted to change his message toward minority voters, but the results have not been promising.
The Wall Street Journal wrote that even in the unlikely event Trump manages to turn around his standings with black voters, he has repeatedly undercut opportunities to do so earlier, declining to speak to prominent black organizations such as the NAACP, the National Association of Black Journalists and the National Urban League.