Britney Spears's street style is legendary and don't you forget it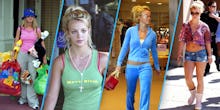 Over the course of her career — from her very first music video in 1998 to the present, with her ninth studio album, Glory — Britney Spears has had many an influential fashion moment. The hot pink latex suit in the "Oops!... I Did It Again" video. The all-denim ensemble at the American Music Awards. Obviously, the school girl outfit in the video for "...Baby One More Time." And of course, that sparkly body suit at the 2000 Video Music Awards.
It's a reputation so powerful that people are already excited about what she could end up wearing at the VMAs on Sunday. 
Though many of those outfits have been celebrated, debated and turned into think pieces, there were other times when Spears was photographed during rehearsals or out with her handlers or far away from the red carpet where you couldn't help but ask the question, "Britney, is that you?"
And, as you can see, those moments are no less iconic. 
So, in order to celebrate some of Spears's legendary and irrefutably amazing street style moments, we have painstakingly tried to retrace her steps and compiled a list of the greatest street style looks Spears has ever put together herself. 
Is she the unsung hero of street style? Maybe so, friends. Maybe so. 
At one point in time, Britney loved matching her sunglasses to her outfits.
The first thing to know about Britney Spears's street style is that at one time, she loved to match her sunglasses to her outfit. In many instances in the late '90s, Spears was photographed wearing teeny tiny red, yellow, orange and purple sunglasses that happened to match what she was wearing. There is really no known reason for this, other than her possibly wanting to look like one of the Three Blind Mice in Shrek. 
This trend also carried on into the early 2000s, with Spears wearing orange and yellow sunglasses on the regular, because she does what she wants. 
First, there was the bucket hat era.
For yet another unknown reason, Spears loved bucket hats. From 1999 for the next few years, she'd wear them on every occasion imaginable, whether it be walking through West Hollywood, or at rehearsals. 
For example, here she is at Disney World in 1999 wearing a pink shirt with purple sunglasses and a massive bucket hat with embroidered Disney characters. 
Has there ever been a more relatable picture of a multi-millionaire pop princess? We doubt it. 
And then, there was the newsboy cap era. 
Shortly after her bucket hat era, there was the newsboy cap era, when Spears's one wish was apparently to look like an extra in Newsies. The question you may be asking now is: "What was Britney Spears hiding under these ginormous blobs of brown?" Was it one of Kevin Federline's cornrows? A shred from Justin Timberlake's bandannas? The Titanic heart of the ocean necklace that she got in the "Oops!... I Did It Again" video? 
(We thought the old lady dropped it into the ocean at the end.) 
The world may never know why, from 2002 until roughly 2007, she was regularly photographed looking like she had a smushed potato sitting on top of her head. And we applaud this level of mystery. 
Britney Spears, noted feminist, enjoyed going braless. 
You know that one Clickhole article that's like "Beyoncé Makes Susan B. Anthony Look Like A Shit-Sucking Gutter Feminist"? 
Well in the 2000s, Britney Spears was making Susan B. Anthony look like a shit-sucking gutter feminist, because she refused to abide by man's rules and by that we mean she refused to wear a bra. 
It was an essential part of her street style, along with the nearly endless array of tank tops with snarky sayings on them. It only made sense to go braless, to add to her aura of "I don't give a shit what you think of me."
Truly an inspiration. 
Juicy Couture was once her favorite thing.
There was a period in 2003 when Britney Spears couldn't keep Juicy Couture sweatsuits off her body, which was a very 2003 thing to do. 
Her, along with women like Paris Hilton and Jessica Simpson, helped make the clothing that you should work out in into a fashion statement that you absolutely do not work out in. Is Britney Spears responsible for the rise of athleisure? Maybe so, friends. Maybe so.  
And she loved wearing Uggs with shorts.
You know what's also inspirational? Spears's dedication to wearing both Ugg boots, which are typically reserved for winter, with cut-off booty shorts, which are typically only worn when it is very hot. For years, she has been dedicated to keeping her feet snuggly and warm while the rest of her body remains body temperature, for reasons that we have not yet figured out. 
Consider this one of the great mysteries of our time. 
But her greatest contribution to street style was, undoubtedly, her affection for graphic T-shirts. 
During the early to mid-2000s, Britney Spears was going through a tough time. She broke it off with Justin Timberlake, met Kevin Federline, shaved her head — and apparently, she had a lot to say about all of that. But how she said it was by having it printed across her chest. 
Let's walk through these. A T-shirt that reads "Dump him" and "I am the American dream," shortly after he breakup with Timberlake. 
Then she was seen wearing a tank top with "Move bitch" scrawled across the front, and another tank that reads, "I'm a virgin (but this is an old T-shirt)." 
Other favorites are Spears wearing a "MILF in training" tank top and one that just reads a short but sweet "Fuck." 
She's an icon for a reason, folks. 
So, before street style ever became an Instagram phenomenon, it was Britney Spears who recognized the value in putting together a look any time she stepped out her door. And thank god for that.