Three Muslim siblings were kicked off a plane for allegedly receiving a text in Arabic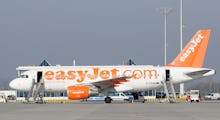 Last week, siblings Sakina, Maryam and Ali Dharas were sitting in an EasyJet plane in London about to depart for Naples, Italy, when they were approached by crew members who told them they had to leave.
According to Al Jazeera, armed police officers and a military intelligence officer greeted the three on the tarmac and proceeded to interrogate them for an hour. The officials informed the siblings that they'd been pulled off the plane because a passenger had allegedly seen them looking at a text that was either in Arabic or read "praise be to Allah." 
In a post for the Independent, Sakina wrote that the military official told them the passenger claimed she and her siblings were members of the Islamic State group.
"We begin to descend the steps and, as we do, we are met with our first question," wrote Sakina in the post. "'Do you speak English?' My mind laughs; I keep it inside. 'We only speak English, officer. We were born and bred in England.'
While they were detained, Sakina had to explain every stamp on her passport and go through her WhatsApp messages.
Sakina said the only app on her phone that uses Arabic is an app that includes verses from the Quran, which she told Al Jazeera wasn't open in the airport. Her brother Ali, she added, hadn't even looked at his phone. 
At the end of the investigation, Sakina wrote in the Independent, the officers had apologized for the "inconvenience," which she said was more closely for her "embarrassment, humiliation and racial profiling."
"[They] assure[d] us that, at a time where we are all 'on edge,' they have to respond to threats such as these," continued Sakina. "Our accusers, we are told, were very 'frightened.'"
Among the things that have "frightened" such "whistleblowers" in the past include asking for a glass of water, wearing a T-shirt with Arabic writing and reading a book. 
In the face of such blatant Islamaphobia, Sakina said she was left with a few questions.
"If the rights of a 'frightened' airline passenger with racist views extend to having my family dragged onto the tarmac for questioning, then what are my rights?" she asked. "What are our rights?"