Trump Tower rent fiasco yet another red flag about Trump's endgame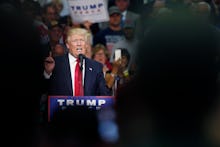 Republican presidential nominee Donald Trump jacked up the rent for his own campaign headquarters at the same time others have begun paying the bills for it, causing some concern as to whether the candidate is trying to recoup some of of his $47.5 million in self-funding from donors.
In July, rent at Trump Tower, where the candidate's campaign is headquartered, quintupled to $169,758 a month, the Huffington Post reported Monday. Just months ago, in March — back when the campaign was still funding operations primarily using Trump's own loans to it — rent for the campaign hq was just $35,458 a month. At that time, the campaign had "197 paid employees and consultants"; in July, it had 172.
In other words, for some reason, the Trump campaign headquarters' rent exploded at the same time its actual need for facilities was reduced. In Tuesday, a Trump spokesman told NBC News the higher rent was needed for a planned "expansion" from one to two floors, which seems to contradict those staffing numbers.
The literal million-dollar question is whether Trump, having forgiven $47.5 million in loans to his campaign in July, is now trying to avoid being left holding the bag (or at least reduce the size of it). Since the candidate is not personally liable for his campaign's debts, redirecting campaign funds to Trump's own coffers — or at least those of his family and business associates — could ostensibly be one way of recouping some of that $47.5 million.
According to Vice, Trump's July FEC filings show at least $7.7 million in Trump campaign funds have gone to "his own companies and children," and that the pace of such payments has been increasing over the course of the general election. Recipients of Trump's largesse have included Trump Tower, his golf courses, his restaurants and others with connections to Trump — like the manufacturers of those "Make America Great Again" hats.
While it's unusual for a presidential candidate to simply give his campaign $47.5 million in the first place, and his campaign's fundraising efforts saw significant improvements in July, the Trump campaign has spent much of the funds it has received inefficiently — such as on things like web advertising at a low rate of return, Quartz reported. Further, while Democratic nominee Hillary Clinton has $80 million reserved for ads in crucial swing states, Trump has yet to reserve any.
According to NPR, Trump has also raised less money than 2012 GOP nominee Mitt Romney for the Republican National Committee, which allocates funding to downticket races for other offices. In general, Clinton is leading Trump by a wide margin in finances — $140 million cash in hand among her campaign, joint funds and allied organizations at the end of July to Trump's $78 million, per the Wall Street Journal.
The reasons behind Trump's lackluster finances are many and varied. But paying out such a large percentage of his campaign funds to himself and others close to him while he's still behind in the money game may have potential donors wondering how committed the candidate really is to entering the Oval Office — or whether he's spending more time thinking about his exit plan.
One theory is that Trump, noticing his tanking poll numbers, is now wondering how he can cash in on the right-wing media circuit when it ends.
"If I was a donor, I'd want answers," an RNC member told the Huffington Post. "If they don't have any more staff, and they're paying five times more? That's the kind of stuff I'd read and try to make an (attack) ad out of it."