Italy earthquake: At least 73 dead after 6.2 magnitude quake strikes central Italy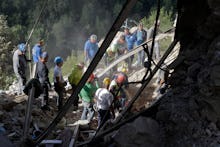 At least 73 people have been confirmed dead after a 6.2 magnitude earthquake rocked central Italy Wednesday morning, CNN reported.
Small villages in this mountainous region of Italy, including Amatrice, were left in ruins. "The town is no more," Amatrice's mayor, Sergio Pirozzi told a CNN affiliate. "Help us."
The epicenter of the earthquake hit 6.2 miles southeast of Norcia, according to CNN, and tremors were felt as far away as Rome. The quake lasted for at least 30 seconds, eyewitnesses said. 
"The biggest problem at the moment (is) logistic problems because it's in central Italy, with really small villages. Now the biggest challenge is to reach all of them,"  Red Cross spokesman Tommaso della Longa told the affiliate.
Amatrice is a popular vacation town during the holidays, according to Longa.
It is unclear how many people are trapped beneath debris and officials expect the death toll to rise.
This is a developing story and will be updated.