Burkini sales skyrocket by 200% after being banned in the south of France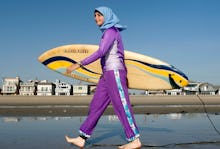 Over the past few weeks, three different cities in the south of France have decided to ban burkinis, the colloquial term for full-coverage swimwear favored by Muslim women that leaves just the face, hands and feet exposed. The reason, according to the French prime minister: The garments are based on the "enslavement of women." 
As a result, Burkini Day, which would have been celebrated at a water park in the French city of Marseilles, was cancelled. Tens of women have already been apprehended and even fined for wearing them along the French Riviera. And just yesterday, images of police armed officers forcing a Muslim women to remove her burkini as she sat on a beach in Nice, the site of a terrorist attack carried out by Islamic extremists on July 14, made the rounds on Twitter. 
There's already plenty of outrage over those images, but according to the creator of the burkini, this series of events hasn't harmed sales of the swimwear. In fact, quite the opposite has happened. Sales for burkinis are up by 200%. 
In an interview with the BBC, Aheda Zanetti, the Australian woman who claims the trademark on the name burkini (and burqini), said that sales were way, way up. "No man in this entire world can tell us what to wear or what not to wear," Zanetti said. 
According to her, the idea for the design came to her years ago when there were reports of France banning hijabs in schools. 
"I'm an Aussie chick, I've been here all my life," Zanetti told the BBC. "I know what hijab means. I know what veil means. I know what Islam means. And I know who I am."
In addition to Zanetti's claims, Marks and Spencer, a British department store that notably started selling burkinis online for the first time in March (they had already been sold in stores for years), recently announced that all of their burkinis had sold out. 
Since the images of the woman being made to undress by armed police on the beach have been released, people have started to compare the ban on burkinis to a time when women weren't allowed to wear more revealing bathing suits on the beach.
But unalike the policing of swimsuits in the past, this ban, according to Mic's Sarah Harvard, is fueled by Islamophobia as well as misogyny. 
"This is about collectively punishing Muslims — who have the highest number of casualties from ISIS, mind you — for the actions of barbaric individuals who have perverted their faith," Harvard wrote. 
So despite being confronted by armed police and fined, it's clear now that the women who want to wear these burkinis just aren't going to give up without a fight.