Here's why Kanye West is demanding radio play Frank Ocean on air — and why that's unlikely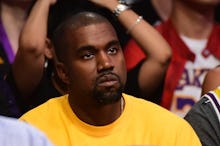 Frank Ocean made almost no attempt to craft a song that would work as a traditional radio single on his latest project, but Kanye West wants him on the airwaves anyway. 
In his latest visionary stream of consciousness, The Life of Pablo rapper used his Twitter soapbox to call on "anyone at radio" and "every station across the globe" to support Frank Ocean, by picking their favorite song and playing it 10 times a day. Yeezy also brought in fellow radio-dominating rapper Drake's voice for support, saying both of them are fans of Ocean's new album.
"Ask yourself," West requested of all radio DJs, "Why did you love music in the first place and what can you do to add to that story."
Ocean has released a series of projects since Thursday, marking his official comeback to the music limelight. A slower, introspective 45-minute visual album Endless came Thursday. Then Saturday came Blonde (or is it Blond?), Ocean's magnum opus. It drew contributions from big name collaborators like Beyoncé, André 3000, Tyler, the Creator and Pharrell Williams, but asked them to use their talents way outside their general comfort zones to create a deeply poetic sonic diary. 
It's already being hailed as a genreless, game-changing masterpiece, beautiful in spite of its lack of radio conventional song structures, danceable beats or earworm melodies.
"Power to the people," West wrote in his final tweet of the night. "Power to the artist. Empower the artist and create a more inspired world."
Here's hoping radio listens and we hear some of Ocean's new music trickling out of car stereos and onto the charts soon.