A Czech anti-Muslim group terrorized Prague when it staged a phony ISIS attack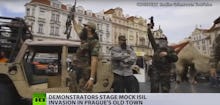 A Czech anti-Islam group staged a phony ISIS invasion on Sunday in Prague's tourist-heavy Old Town Square, terrifying people by firing fake (or blank-loaded) guns and carrying black mock-ISIS flags, the Telegraph reports.
Video uploaded to Facebook appears to show diners at a nearby restaurant running from what appeared to be an invasion, as the group arrived in the town square in what appeared to be a military vehicle, while waving black flags and firing their guns.
The group was led by Martin Konvicka, a populist political activist who opposes Islam in Europe. Konvicka said the point of the demonstration was to make people take seriously what he says is a threat posed by Islam.
Konvicka's actions have been condemned by Czech politicians. Martin Chovanec, Czech interior minister, called what Konvicka did an "expression of political and civic cretinism," according to the Telegraph.
Prague's mayor, Adriana Krnacova, who said the police-approved action should not have been approved, opposed the act as well. But instead of denouncing Konvicka's underlying message, she expressed support of the group's anti-migrant sentiment.
"I oppose accepting migrants, but I do not think it is normal for some people to drive across the Old Town Square causing fear and panic," she said, according to the Telegraph.
The Czech police have not made any arrests in connection to the demonstration.
Konvicka's actions are just the latest display of the Czech Republic's wider problem with Islamophobia. In 2014, an organization called In Iustitia registered 86 cases of hate violence, with the strongest trend being in Islamophobia, according to the Prague Monitor. One of the largest xenophobic groups in the country, with a Facebook following of around 11,000, is titled "We do not want Islam in the Czech Republic." Konvicka is the group's leader.