Mike Pence's photo op at a black barbershop in Norristown, Pennsylvania, did not go well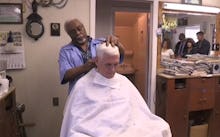 The ideal photo op for a vice presidential candidate makes them look at ease with supporters while convincing new voters to back them. This is not one of those photo ops.
On Tuesday, Indiana governor and Hannibal Smith-look-alike Mike Pence visited a black barbershop in Norristown, Pennsylvania, to drum up goodwill for Donald Trump.
Trump has historically low support among black voters, according to most polls:
Pence — sensing, correctly, that this is a problem — stopped by Henry Jones' barbershop in Norristown and brought the media along for the ride.
It was supposed to say to black voters, "Hey — we're thinking about you." Instead, Jones, the barber, threw a wrench in the governor's plan when he finished Pence's cut, looked him dead in the eye and asked:
"Your name was?"
One of two things went wrong here: Either Jones genuinely had no clue who Mike Pence was, or had so little respect for the Republican governor that he threw sensei-level shade at him in the middle of CNN's livestream on Facebook.
Neither looks good for Trump — whose alignment with white supremacists and their media outlet of choice, Breitbart, has helped make him the least popular GOP candidate among black voters since 1948.
Twitter users were quick to ridicule the campaign's deeply uncomfortable barbershop field trip:
To his credit, the governor gamely tried to save the exchange. Pence introduced himself to Jones and told the visibly surprised barber he was running for vice president.
"Go ahead, man," Jones said. "Vice president? Oh boy."
"I'm running with Donald Trump. I'm his running mate," Pence added.
"OK," Jones said. "All right. Oh boy."