Disney star Bella Thorne revealed she's bisexual and it was totally NBD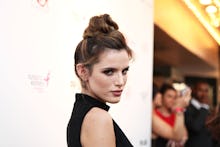 On Tuesday, Bella Thorne, the 18-year-old actress from Disney Channel series Shake It Up, came out as bisexual on Twitter with a simple "yes" when a fan tweeted at her asking if it were true.
According to Pink News, Thorne had pre-empted the reveal with a Snapchat photo she posted Monday night showing two Polaroids of her kissing another woman. Though the news could have easily come as a shock to fans — who had only received word of Thorne's split from actor Gregg Sulkin a week ago — they responded with an outpouring of support for the actress.
"Damn @bellathorne is one of the coolest girls in Hollywood IMO," wrote Twitter user Maddie Phillips. "This chick is constantly real AF. Keep breakin' them social conventions bb."
Others gave Thorne props for speaking out about her sexuality in such a public way, with another Twitter user writing, "Everyone with this sort of platform [who] is open like this makes it easier for the rest of us!"
Though there's no right or wrong way to come out, Thorne's casual reveal seems to be part of a changing climate among celebrities, where talking openly about your sexual orientation can be as offhanded and impromptu as you want.
Just last month, actress Aubrey Plaza came out with the same straightforward "yes" as Thorne when faced with the (albeit grossly phrased) question "Have you ever dipped into the lady pond?" on Andy Cohen's Watch What Happens Live. 
Later, Plaza told the Advocate, "Girls are into me — that's no secret. Hey, I'm into them too. I fall in love with girls and guys. I can't help it."
On Tuesday, Thorne thanked her fans for being so supportive, using the hashtag #Pride.
"Aww thank you for all the accepting tweets from everyone," she wrote. "I love you guys."