'Glee' actor Naya Rivera opens up about having an abortion while shooting the show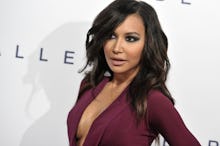 In Naya Rivera's forthcoming memoir — side note: Naya Rivera has a forthcoming memoir! — she opens up about an experience that as many as one million people per year can relate to: getting an abortion.
The book isn't out until next month, but People got an early look and is reporting that one of Rivera's chapters details the experience of her unintended pregnancy in 2010, while she was starring in Glee. Instead of telling now-husband Ryan Dorsey (they were broken up at the time), Rivera had the pregnancy terminated on one of her days off.
"It was very scary to open up about everything," Rivera told People of her decision to make the abortion public. "It's not something a lot of people talk about, but I think they should. I know some people might read it and say, 'What the hell?' But I hope someone out there gets something out of it."
Rivera joins a growing number of celebrities who have publicly shared their abortion stories, including Nicki Minaj, Chelsea Handler and Margaret Cho. 
Last year, Girls star Jemima Kirke spoke out in a public service announcement for the Center for Reproductive Rights. "My life was not conducive to raising a healthy, happy child," she said. "I just didn't feel it was fair."
As for Rivera, she eventually gave birth to a son named Josey last year. She told People that she hopes he reads her book and that it helps him learn more about reproductive rights. 
"I hope it gives him a better perspective on the issues women face," she said.