Italy is handing out 500 euros to all of its 18-year-olds for cultural activities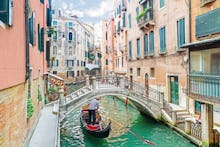 Italy's lawmakers are on a quest to out-cool the rest of the world. 
The country recently passed new laws obligating that supermarkets donate unsold food, and the Italian coast guard now fines tourists who try to hog space at the beach (by obnoxiously leaving towels out overnight to reserve primo spots).
But starting next month, the country is rolling out what is arguably its chillest initiative yet: giving all of its 18-year-olds 500 euros — or about $560, based on current exchange rates — to do cool stuff.
The money is being called a "cultural bonus," and there are a few strings attached. 
The initiative begins on September 15th, at which point young Italians will have to download an app to claim their free money. The funds can be spent only on culturally enriching activities, including attending museums, fairs, art galleries and archeological sites.
Teens will have a whole year to spend the cash — and they get wide berth in determining what "culturally enriching" means to them. 
For example, in addition to obvious sites like national parks, the Vatican museum and the Coliseum, 18-year-olds will also be able to use the money to buy books (and not just for school), attend concerts or even go to the movies.
As Atlas Obscura pointed out, at current ticket prices, the bonus almost covers the cost of one movie a week — if you avoid IMAX. 
Roughly 575,000 teenagers will benefit from the program, which applies to anyone who is currently age 18 or who will turn 18 this calendar year, including non-Italian European Union citizens living in Italy. 
The initiative was announced last year in the wake of the Paris terrorist attacks and is meant to help all Italians take a sense of pride in the country's culture. 
"This is a bonus for kids coming of age, to give them the symbolic awareness of what it means to be an adult in Italy — a main protagonist and heir of the greatest cultural heritage in the world," Italian Prime Minister Matteo Renzi said when he announced the program nine months ago. 
Indeed, teens using the cash bonus will have tons of options from which to choose: Italy has more World Heritage sites than any other nation in the world.