What time will Britney Spears perform at the 2016 MTV VMAs? Here's everything we know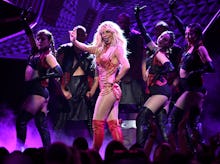 For the first time in 10 years: It's Britney, bitch. Pop star Britney Spears will take the stage at the 2016 MTV Video Music Awards after nearly a decade on Sunday night, making her first appearance at the awards show since 2007.
The singer is scheduled to perform "Make Me..." with G-Eazy, the first single off her new album, Glory. And the performance will be no small production: for the first time ever, the VMAs are taking place in iconic Madison Square Garden in New York City.
While MTV hasn't released the exact lineup of performances yet, there's good reason to believe that Spears will be opening the show. 
Ample promotional materials and hype about Spears' performance have flooded the internet, including MTV producer Jesse Ignjatovic telling Entertainment Weekly that the show will be like nothing fans of the pop star have ever seen before.
"She's not one to do the same thing she's done in the past," Ignjatovic said. "It's going to be something you've not seen her do before. It's going to separate her from other performances."
Considering her past appearances have included stunts like making out with Madonna onstage in 2003 and shimmying around with a giant snake in 2001, chances are you probably won't want to miss her 2016 performance.
Tune in to the VMAs on Sunday, August 28 at 9/8c on MTV.