What is the Clinton Foundation, and why are Republicans attacking Hillary Clinton over it?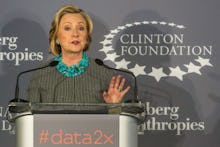 Hillary Clinton is again on the receiving end of Republican attacks, with the GOP attacking her family's charitable foundation, painting it as a corrupt organization the Clintons used to peddle influence.
The newfound focus on the Clinton Foundation comes as newly released emails from Clinton's aides show foundation donors sought meetings with Clinton while she served as secretary of state.
Republican presidential nominee Donald Trump has alleged that the foundation is a "pay-to-play" organization, and has demanded that a "special prosecutor" investigate whether it's tied to any illegal activity.
The Clintons, on the other hand, say the organization has provided life-saving treatment for HIV/AIDS and other diseases worldwide, as well as provided technology to help combat poverty and hunger around the globe.
Lost in the brouhaha, however, is the background of what the Clinton Foundation is, what exactly it does, and why it's become an issue in the 2016 campaign.
What is the Clinton Foundation, and how does it work?
In 2001, when Bill Clinton's time in the White House came to an end, the former president wanted a way to continue serving.
Enter the Clinton Foundation, a charity that looks to bring together "businesses, NGOs, governments, and individuals" to solve problems related to poverty, health and social welfare, according to the Clinton Foundation's website.
Unlike other charities, the Clinton Foundation spends the vast majority of its money on its own projects, rather than donating the funds it raises in the form of grants to other charities.
Global health care is the foundation's largest focus, helping "11.5 million people in more than 70 countries" suffering from HIV/AIDS receive medication at a lower cost, according to the foundation.
But it also focuses on four other areas: health and wellness, girls and women, economic development and climate change.
In those areas, the group has launched a healthy schools initiative in the United States to fight childhood obesity, provides farmers in Africa with seeds and fertilization products with the intention of growing food and alleviating hunger, and trains women in Peru to produce and sell products that increase their quality of life.
GuideStar, which ranks charitable organizations based on their transparency as well as how much of their funding actually goes toward charitable work, gave the foundation a platinum rating — the highest rating it awards.
And CharityWatch, a charity watchdog group, gives the foundation an A, finding that 88% of the funds it raises go towards programming.
Why is it controversial?
When President Barack Obama nominated Clinton to serve as secretary of state, there were concerns about whether the foundation's work around the world and Clinton's role as the country's top diplomat would create conflicts of interest.
The Clintons gave assurances that no such conflicts would arise, and she went on to serve as secretary of state from 2009 to 2013.
But emails released to the public — thanks to a lawsuit from the conservative group Judicial Watch — show that Clinton Foundation donors did seek access to Clinton while she was Secretary of State, and have raised questions about whether those donors received any improper, preferential treatment.
Emails show Doug Band, a longtime aide to Bill Clinton who had a role in launching the Clinton Foundation, sought to set up meetings between foundation donors and Hillary Clinton through her aides.
Some were granted, including one with the crown prince of Bahrain, whose government gave money to the foundation. To be sure, a meeting between Clinton and a dignitary from a foreign country like the prince were within the purview of her job at the State Department, although the emails revealed that the crown prince was unable to secure a meeting with Clinton through standard diplomatic channels.
An Associated Press review also found that of 154 meetings Clinton had with private interests, at least 85 of those meetings were with people who had donated to the foundation.
Clinton's campaign has pushed back on the story, saying the AP "cherry-picked" its number of meetings to "give a distorted portrayal of how often she crossed paths with individuals connected to charitable donations to the Clinton Foundation."
Clinton's campaign says she had more than 1,700 meetings with world leaders while she was secretary of state.
The campaign also pushed back against how the article "casts a shadow" on Muhammad Yunus, one of the main people featured in the piece.
Yunus, a 2006 Nobel Peace Prize winner whose bank gave low-interest loans to poor business owners around the world, had donated to the Clinton Foundation and then had multiple meetings with Clinton while she was secretary of state.
The article says Clinton and Yunus spoke when Yunus was being investigated by his country's government, which subsequently forced him to resign from the bank's board. Yunus' supporters say the investigations were politically motivated.
Still, Bill Clinton has said he will sever all ties he has with the foundation if Clinton were elected president, something some say is a tacit admission that conflicts of interest existed.
Will the cloud around the foundation stick?
Trump's campaign will likely continue to use the foundation in their narrative that the Clintons are a corrupt bunch who believe the rules that apply to others don't apply to them.
However Trump has his own cloud surrounding his business dealings.
Trump's business empire reportedly holds more than $650 million in debt, according to the New York Times, some of which is tied up in foreign lenders such as the Bank of China.
Critics add that because Trump has refused to release his tax returns, it's impossible to know what other countries he's invested in.
Similarly, as president, Trump would be privy to information that could impact his own finances and businesses.
There's also the other glaring problem: Trump is calling the foundation a scam, despite the fact that he himself donated between $100,000 and $250,000 to the charity. His daughter, Ivanka, also gave between $5,000 and $10,000.