Alleged new iPhone 7 photos suggest we've got the name all wrong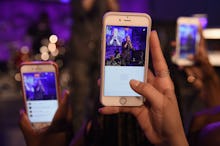 Ahead of the iPhone 7's release there are some odd rumors, including the suggestion that the iPhone 7 will not actually be called the iPhone 7. According to the latest set of "leaked" images, the past year of hype has been building to a continuation of Apple's iPhone 6 line, dubbed the iPhone 6 SE. Huh?
The rumor, first reported by 9to5Mac, is based on a set of photos that reveal the packaging of Apple's new device. They may look legitimate, but upon closer inspection, you can see that the branding doesn't make sense. The way the "SE" is boxed off makes the product read like an extension of the iPhone 6, which launched in 2014, rather than the iPhone 6s, which arrived most recently in September 2015.
Besides the sketchiness of the packaging (also note the polka dot lines censoring potential product identifiers), the introduction of an SE model doesn't add up. It's possible Apple has done a great job of hiding its plans, but there have been no recent rumors regarding a new SE model. At all. In fact, the first iPhone SE just arrived at the end of March. It seems unlikely Apple would introduce another SE device so soon after its debut.
From a marketing perspective, the iPhone 7 just makes sense. It rolls off the tongue (unlike the clunky "iPhone 6 SE") and follows Apple's trend of launching a new numbered device following the arrival of an "S" version of the previous model. The iPhone 7 marks a new era for Apple that includes the birth of iOS 10, a dual camera lens system and the switch from standard headphone jacks to Bluetooth and Lightning. 
We'll see for sure at Apple's annual unveiling event, which reportedly will happen on Sept. 7.