This Italy earthquake before and after photo shows the utter devastation of Amatrice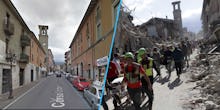 Where the town of Amatrice, Italy, once stood, there is now rubble.
Shocking before and after images of the small mountainous village shows just how much devastation it sustained from a deadly 6.2 magnitude earthquake that struck early Wednesday.
Amatrice, which has about 2,000 residents, is just one of several villages in Italy's rural north to sustain irreparable structural damage as a result of the tremors, but it was hit the hardest by far.
So far, 73 people have died in the quake — including 53 from Amatrice — and the death toll continues to climb, according to CNN.
"The town is no more," the town's mayor, Sergio Pirozzi, told CNN affiliate Rai. "Help us."
Eric Zerkel, senior editor at the Weather Channel, was the first to point out the stark contrast between the two photos. On Twitter, he said that he used Google's street view feature to track down an image of local road Corso Umberto in 2011.
Compared to the chaotic pictures of the same road from August 23, 2016, after the earthquake struck, the scene is hardly recognizable.
Rescuers continued to scour the ruins of Amatrice on Wednesday, searching for survivors in the rubble. 
Joanna Walker, a lecturer at the UCL Institute for Risk and Disaster Reduction, told CNN that the aftershocks coming in the wake of the earthquake could cause even more damage.
"So these aftershocks, even though they're smaller, could cause a lot of damage by just adding that little bit to what's already damaged," says Walker. "Another problem is that some of these earthquakes can also trigger earthquakes on other faults."
The Italian government has appealed to its citizens to donate blood if they are in Rome or its neighboring areas. A map of blood centers accepting donations is available here for anyone interested in helping.