Britney Spears accused of lip-synching in James Corden's Carpool Karaoke teaser video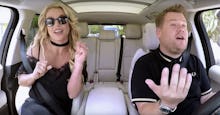 Britney Spears will be the latest artist to catch a ride in The Late Late Show with James Corden's beloved Carpool Karaoke series, according to a teaser video posted on YouTube Tuesday, with the full episode airing Thursday night. Spears joins a dream team of fellow artists and entertainers, as well as first lady Michelle Obama, who have all had consistently stripped down, candid and always hilarious trips with James Corden.
The two begin the typical banter before busting out into a duet of "Toxic," easily one of Spears' greatest early '00s hits. Instead of reminiscing of all her early-pop-star-stage glory, however, most fans commenting on the video noted one major question: Is Spears lip-synching to her song instead of singing live as every other artist has done before her?
The song's opening lyrics "Baby can't you see," start as a Corden solo, but when Spears begins moving her lips it doesn't seem to add another voice to the din.
"LYPSYNC KARAOKE," wrote one apparently angry user. "OMG I CAN'T BELIEVE SHE IS ACTUALLY LIP-SYNCHING, definitely disappointed," said another. 
However, Spears' dedicated fans came to her defense, with one user writing the infamous refrain: "Leave Britney alone!"
Whether Spears is actually lip-synching will likely become clear Thursday night. If she is, it would defy the bit's whole premise, which is to provide a candid look at celebrities singing without the glitz, glamour and production. She does unfortunately have a history of lip-synching gaffes. Fans and even other musicians have critiqued several of her past performances, with John Mayer calling out a wave of criticism following a 2009 Australian performance: "If you're shocked that Britney was lip-synching at her concert and want your money back, life may continue to be hard for you," he wrote on Twitter. There have also been those cringe-worthy isolated vocals tracks. 
Spears has an upcoming, hotly anticipated MTV Video Music Award performance coming up, as well as a new album coming Friday. So not to be the bearer of bad puns, but there's a lot riding on whether she can deliver real vocals during Carpool Karaoke. 
For that, we'll just have to wait and see.