As France debated the burkini, Scotland made the hijab optional for its police uniforms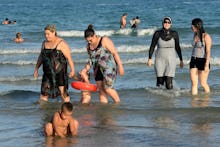 Following news that a "burkini"-only day at a French waterpark would be canceled, debate raged over whether burkinis — a hybrid of a burqa and a swimsuit — should be allowed at all in a country where the burqa is illegal.
As French police crack down on the now-banned swim garment, fining women thousands of dollars, authorities in Scotland are taking a different approach to religious garb. Scotland police announced Tuesday via its official Twitter account the hijab was officially an "optional part" of police uniform. 
Scotland National Party MP Tasmina Sheikh called the French ban on burkinis "deplorable" to BuzzFeed, saying police shouldn't have the right to tell women what or what not to wear. Scotland's new policy, the Sheikh tweeted, is "a very welcome contrast."
France banned religious headscarves and other "visible religious symbols" in 2004 and later banned burqas in 2010, explicitly targeting Muslim women in a move toward supposed secularism. 
But some in favor of the new uniform policy said they believe encouraging religious expression will diversify the country's police force. 
"This is a positive step in the right direction, and I am delighted that Police Scotland is taking productive steps in order to ensure that our organization is seen to be inclusive and represents the diverse communities that we serve across Scotland," Scottish Police Muslim Association chair Fahad Bashir told BuzzFeed.
"No doubt this will encourage more women from Muslim and minority ethnic backgrounds to join Police Scotland."