Leslie Jones hack: Photo leak exposes star's nudes, passport and drivers license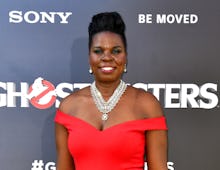 Once again, it appears that Leslie Jones is the target of a vile campaign of internet abuse — but this incident goes even further than the heinous, racist tweets that bombarded her in the days following the premiere of Ghostbusters. 
Gossip site TMZ first reported, and multiple outlets have since verified, that hackers posted the actress' personal information — her passport, driver's license — and nude photos to her website Wednesday. 
It has since been taken down, but photos of Jones engaging in sex acts are still up on 4chan and currently being hosted by Imgur.
Online harassment has been a problem for Jones in recent weeks: The Ghostbusters star took a Twitter hiatus in July, following outsized abuse from trolls who bombarded her with sexist and racist insults. Many Twitter users called her an ape and compared her to Harambe, the gorilla that was killed at the Cincinnati zoo in May. 
That racist, sexist insult was revived in this latest attack. The hackers reportedly even posted a video of Harambe at the top of her website.
Though it's unclear as to who was behind the hack, the alt-right is certainly celebrating on Twitter, saying the actress got what she deserved for getting Breitbart tech editor Milo Yiannopoulos kicked off Twitter. 
Jones was not directly responsible for Yiannopoulos' expulsion; rather, it was his decision to launch a campaign of racially motivated harassment against her that prompted Twitter to ban him. 
Mic will update this article if Leslie Jones comments on the photodump, or if a party takes credit for the apparent hack.