5 ways startups have revolutionized office design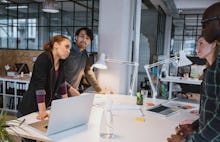 The sun is setting on the American cubicle.
Millennials have already overtaken baby boomers as the largest living generation in the U.S., and they're poised to dominate the workforce — according to a report by Jones Lang LaSalle, millennials will be the dominant demographic by 2020. And as Boomers retire, so too is the outmoded office design that came to define their generation's corporate work environments.
Since the emergence of the modern startup at the turn of the century, tech companies like AOL, Google and Facebook have led the charge in reimagining the rigid formalism of traditional offices in favor of more flexible, human-centered workspaces. As a result, traditional corporations are following suit with ambitious design aimed at fostering work-life balance, retaining the best talent, and inspiring greater productivity.
Here are a few ways that the values and design aesthetics of tech startup culture have infused the offices of forward-looking organizations as they strive to provide their young workers with spaces for creativity and collaboration.
Open floor plans
Perimeter offices are in decline. The notion of everyone sitting in a big room, coming up with the next big idea, has literally brought the walls down and opened up spaces that are more informal, interactive and dynamic. The result is a more egalitarian layout than the traditional setup with exclusive corner offices.
"Hierarchy, tenure and seniority are no longer the key factors in design," said Karen Thomas, a a certified interior designer and principal with California-based architecture firm LPA Inc., in an interview with BDC Network. "Flexible work zones are displacing high, opaque walls."
Bloomberg LP, the financial tech and media company, was a high-profile adopter of open-plan seating, doing away with cubicles altogether so that employees sit elbow to elbow, regardless of hierarchy, to encourage a trading floor vibe. This setup enables speedy troubleshooting and technical cross-pollination. And when there's breaking news, it allows for quicker communication and more immediacy than you'd find in traditional office spaces.
Hot-desking
Office workers today are untethered from their desks. With laptops, cellphones and Wi-Fi, the tools of work are smaller and more mobile. In the last 10 years, there's been a substantial increase in the number of workers spending a large portion of their time away from their desk.
As employees find themselves spending more and more time in team brainstorms, conference calls, clients' offices or telecommuting, assigned seating becomes less and less necessary. So-called "hot-desking" can break up the monotony of a fixed workspace, encouraging employees from different departments to interact, integrate and innovate.
International consultancy Deloitte assembles teams on a project-by-project basis, a large percentage of the workforce often commuting to offsite locations. Deloitte's massive headquarters in Montreal has done away with corner suites and executive offices entirely, enabling employees to choose where they sit and change seating based on the projects they were working on, providing lockers for storing personal items.
By embracing more communal and less personal space by design, the company better utilizes the space for the workers in the office and changes the structure of how the organization works as a whole.
Health is happiness
Google set the standard for employee perks, with everything from free shuttle services and a gourmet cafeteria to physical fitness programs and on-site physicians. Today, more traditional companies like biotech company Genentech have taken a page out of Google's playbook, understanding that managing stress plays an important role in employee happiness and retention.
As a 40-year-old biotech company, Genentech takes the working conditions for its 13,000 employees very seriously. The company installed an onsite fitness center, CO2 sensors to regulate air quality to reduce worker fatigue and a cafeteria offering fresh sushi as well as in-house farmers' markets and food stands for employees working round-the-clock schedules.
Additionally, by offering child care centers and flexible working hours for parents, Genentech eases the pressures of balancing family and work. 
Space for face-to-face
Technology has become so efficient at connecting us, face-to-face interactions are almost obsolete. When we need to connect with a colleague, we send an email. Instead of punching in someone's extension, we send an instant message. The ease of connectivity has made it virtually unnecessary to talk to your office colleagues, leaving a palpable lack of social integrations between departments and even within groups.
Office managers are finding new ways for colleagues to interact with one another, building out break rooms, common areas and even cafes for employees to mingle and integrate.
Software giant Adobe's campus includes a full NBA-sized indoor basketball court, a game room (named "The Bunker"), a fully equipped gym and interactive artwork that draws inspiration from Adobe's products. Giving employees a place to gather, talk and unwind is important to enhance connection and communication. The ability to interact with each other in a venue outside the workplace can help workers build better relationships between colleagues. Without camaraderie and personal interaction, there's less chance for the spontaneous conversation and collaboration that are vital to innovation.
Objectifying values
In the same way that open plans and transparent walls can be expressions of the very concepts many startups value, elegant design can also bring a company's credo to life.
In order to physically manifest its belief in technology's ability to connect and empower people, creative digital agency The Barbarian Group built a "superdesk."
The desk runs the perimeter of the entire office, rising up in parts to form collaborative meeting areas and group breakout areas. It's an open plan workspace with flexible seating that literally embraces its inhabitants in the company's mission.
As work environments continue to evolve along with the workforce and the industries they support, both new entrants and incumbents alike will have to approach office design in the same spirit as any innovative disruptor: constant iteration.