Brexit leader Nigel Farage says he'll stump with fellow anti-"globalist" Donald Trump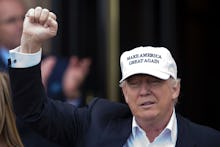 Republican presidential hopeful Donald Trump will share a campaign stage Wednesday with Nigel Farage, a champion of the controversial Brexit vote, Farage has announced.
The Daily Telegraph reported Farage, the former leader of the U.K. Independence Party, says he will appear at a Mississippi rally for the GOP nominee to "tell Republicans how they can use the lessons from his successful campaign to take Britain out of the European Union to send [Trump] to the White House."
Trump was a vocal supporter of the "leave" movement, while the Obama administration supported the "remain" side of the equation.
Trump spokeswoman Hope Hicks downplayed the report, telling Sky News she "highly" doubts the nominee will appear with Farage.
Britons' June vote to break away from the EU has drawn innumerable comparisons with the Trump theory of international relations.
Trump has voiced protectionist views on trade, calling deals like NAFTA unfair to the U.S. While he's evinced a strongman stance on fighting terror, he has also said he would limit U.S. involvement in NATO.
In his speech accepting the Republican presidential nomination, Trump said, "Americanism, not globalism, will be our credo," an echo of the British nationalism that fueled the Brexit referendum.
Opponents of Brexit — including some who were openly stunned that the "leave" effort carried the day — lamented it as a victory grounded in nationalist, xenophobic anger.
Supporters said it showed the public striking a blow for more secure borders, self-determination and job protections for Britons.
Farage told the Daily Telegraph he would not go so far as to formally endorse Trump, saying it would be wrong for a foreign politician to get that deeply involved in U.S. politics.
But he had no such qualms about explaining why he thought the lessons of Brexit would dovetail gloriously with the Trump pitch, saying in that same interview:
It was a victory for the little people — and if the Trump camp reaches out to those same people who have been disadvantaged by corporatism, undercutting wages, a lot of strong similarities to the United Kingdom then it does not matter what the polls say, what the liberal media say — in the end elections are won by numbers.
Faced with bad poll numbers, Trump himself brought up the ground-shaking U.K. referendum last week, tweeting a reference to the widespread surprise at the success of the "leave" movement — even among some who voted for it. Trump proclaimed that he would soon be known as "Mr. Brexit."