26 ways to get kicked off a plane if you're flying while Muslim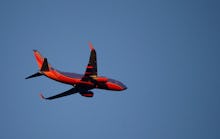 Getting ejected from an airplane is a rite of passage for many Muslims.
On Wednesday morning, prominent YouTube prankster Adam Saleh and his friend Slim Albaher were allegedly removed from a flight for speaking in Arabic. Saleh tweeted a video he recorded of being escorted out of a Delta Airlines flight that was heading to New York City from London's Heathrow Airport. 
In the video, Saleh says passengers told flight attendants they were uncomfortable with him on the plane after hearing him speak Arabic to his mother over the phone.
"I spoke a word, a different language, and you said you feel uncomfortable," Saleh says in the video. "Just because I spoke a different language?" 
Delta Airlines confirmed the incident to Mic. The carrier said that Saleh and Albaher were removed from the flight after 20 passengers expressed discomfort with them being on the plane. Delta Airlines added that it is currently undergoing a full investigation of what transpired.
While Saleh has been in trouble in the past for hoaxes and staging incidents for his 2 million subscribers on YouTube, it shouldn't take away from the reality that Muslims, people with Muslim family origins and even those mistaken as Muslims are routinely discriminated against in airports and on airplanes. Unfortunately, being ejected from planes or interrogated by agents are just prices to pay for #FlyingWhileMuslim in post-9/11 America.
Here is a list of everyday actions Muslims — or those perceived to be — should refrain from doing to avoid getting detained or kicked off a flight:
1. Don't text in Arabic.
2. Don't scribble on your notepad.
3. Don't speak Arabic on the phone.
4. Don't speak Arabic to your friend.
5. Don't ask for a glass of water.
6. Don't ask for a harness for your child.
7. Don't wear a beard.
8. Don't make a pilgrimage.
9. Don't ask for another Diet Coke.
10. Don't upgrade to business class.
11. Don't wear the wrong shirt.
12. Don't sweat.
13. Don't read a book.
14. Don't be a Bollywood celebrity.
15. Don't be 6 years old and have a common name.
16. Don't complain about a four-hour delay.
17. Don't switch seats.
18. Don't watch a video on your smartphone.
19. Don't look at a flight attendant. 
20. Don't look foreign.
21. Don't have a Muslim name.
22. Don't be a refugee.
23. Don't live in Australia.
24. Don't wear a turban.
25. Don't be Sikh.
26. Don't be Muslim.
Take note: There are 1.6 billion Muslims on Planet Earth — of a total 7 billion people — and a grand majority of them are nonviolent individuals. If you're so scared of brown people and Muslims on your plane, maybe you should take the damn bus.