'Pokemon Go' update: Here's how to get your monsters appraised by your team leader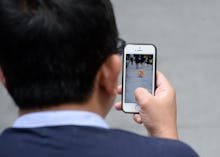 Niantic has rolled out a new Android and iOS update to Pokémon Go. In theory, it helps trainers identify stronger types of Pokémon to use in gym battles; it's called Pokémon Appraisal.
From the update's release notes:
"Implemented Pokémon Appraisal: Trainers will now be able to learn about a Pokémon's attack and defense capabilities from their Team Leader (Candela, Blanche or Spark) to determine which of their Pokémon have the most potential for battle."
Appraisal is a nice idea but, similar to most of Pokémon Go's features, it's a bit flawed in execution. As you can see from the images, the Team Leaders offer some advice, but it's pretty vague and will be difficult for casual players to interpret. Engadget pointed out that the Pokémon Go Database fan site has an explainer guide that breaks down what various appraisals potentially mean, but it's definitely geared towards hardcore Pokémon Go trainers. Perhaps that's the crowd Niantic is trying to court.
Twitter users quickly reacted to the news the way Twitter often does, with jokes:
If you want to check out the update for yourself, head over to iTunes or Google Play.