Tried-and-true techniques for getting the smell of garlic off your hands after cooking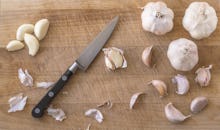 If you've ever chopped garlic, you probably know that the smell of it lingers on your fingers for hours, if not days, after you've cooked with it. 
Every time you wave, every hand you shake, you're shamed by the pungency aerating off your fingers. It just won't go away! If you don't want to reek of garlic post-cooking, we asked the experts how to effectively get it off your hands. 
Here's their best advice: 
Try a common kitchen tool.
"I run my hands under running water while rubbing my clean Kunzspoon. The stainless steel helps remove the odor." — chef Craig Koketsu, Quality Branded in New York City 
Or try common pantry ingredients
"Rub baking soda and salt between your fingers dry, and then wash with soap and water right afterwards." — chef Greg Grossman, OREYA in the Capri Hotel in Southampton, New York
"Rub rosemary on fingers, place in warm water and soak for five minutes. Lemon can also be used in a pinch." — chef Franklin Becker, Top Chef Masters alum
"The acidity from fresh lemon juice will cut right through the smell. That and soap and you're all set!" — Sandy Dee Hall, Black Tree Brooklyn
Or just avoid the problem from the start 
"The only tried-and-true method I would advise to avoid the problem altogether: latex gloves!" — chef Daniel Eddy, Rebelle in New York City
"The best way is to avoid the problem altogether and wear gloves when chopping or slicing garlic." — executive chef Yvan Lemoine, Union Fare in New York