Chance the Rapper is on a first-name basis with his biggest fan, President Barack Obama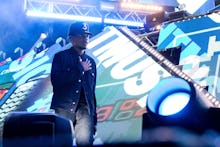 Regardless of his political legacy, we'll all remember President Barack Obama as the president with the most impeccable musical taste. This truth became even more self-evident recently when he shared his two-part summer playlist on Spotify, which featured a variety of hits from the likes of Aretha Franklin, Billie Holiday, Leon Bridges and fellow Chicagoan Chance the Rapper. 
What we didn't know then is that Chance and the president are on a friendly, first name basis, and the whole first family seriously digs his latest mixtape, Coloring Book, as revealed in a GQ profile of the rapper published Wednesday.
"Oh yeah. They're bumping Coloring Book hard up there," Chance said. "If you go up there, you'll probably hear Coloring Book. This is not a joke at all."
Chance's "Acid Rain" off his 2013 mixtape Acid Rap is featured on the "Night" section of Obama's 2016 summer playlist, which houses more of the slower, introspective tracks on the list. But it seems Obama has long been a loyal fan of Chance, going so far as to invite the rapper up to his office in the White House to learn about the future projects he's been working on. 
He told a story about meeting the president, whom Chance calls Barack in the interview, before correcting himself to "uh, President Obama."
"There was a big meeting [in April] about My Brother's Keeper and criminal-justice reform, and a whole bunch of artists and celebrities were there. And at the end, everybody takes a group photo, and he's signing stuff. And he keeps pushing me to the back, and I'm like, 'I don't understand why he won't sign my shit.' And he makes me wait till the end, and then he brings me up to his office, and we had a really good conversation about what I was working on. He told me I needed to start selling my music."
According to the interview, it seems the respect is mutual. Chance had some glowing words about Obama, and would likely be a fan even if he wasn't the leader of the free world.
"He's a good man," Chance said. "Even if he wasn't president, if his ass worked at, like, Red Lobster, he'd be just a good man working at Red Lobster."