Man in Sweden eludes sexual assault charge because victims had big breasts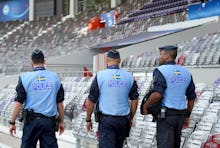 A Swedish policeman reportedly said it was understandable that a man had groped two large-chested women, because sometimes it's "hard" for people "not to brush up against" large bosoms.
According to the Telegraph, investigator Mikael Lundberg declined to pursue a sexual assault allegation made by two women who said a professional hockey player groped them at Marité, a nightclub in Östersund, Sweden. Lundberg reportedly told the Swedish newspaper Expressen that it was "pertinent in this case that the women had gigantic breasts."
"It wasn't hard to brush up against them," he continued, according to the Telegraph. "If you're drunk and draping yourself over someone, well, you can see how it might have happened."
According to the Postmedia Network, Lundberg explained to Expressen how the hockey player came up behind two women while they were standing at a table, draping his arms around them and groping at least one woman in the process. According to Postmedia Network, Expressen reported he touched one woman's breast; according to the Local, he reportedly touched both women's breasts. Either way, all breast touching was allegedly accidental. The man said he doesn't remember anything about it, the Local reported.
In the eyes of Swedish criminal lawyer Elisabeth Massi Fritz, Lundberg's reasoning is a bunch of baloney. 
"Being drunk does not exonerate," she told Expressen, Postmedia Network reported. "It's sexual assault under the criminal code if another person harasses you in a way that violates your sexual integrity." As in, comes up from behind and grabs your breasts. 
Apparently, the man's hockey team agreed — or at least saw the potentially problematic nature of the case: As the Local reported, the player is currently suspended. 
Lundberg has since walked his comments back, saying that the size of the women's breasts didn't matter and his words were misconstrued, according to the Telegraph.