When will Netflix have season 2 of 'The Flash?' Barry Allen is likely back in the fall.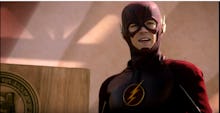 It's really easy to speed through the CW superhero series The Flash on Netflix — and no, not just because it's a show about the fastest man on the planet. Sadly, the streaming service has just one season of the series available at the moment. But with its third season set to air in October, the wait shouldn't be too much longer for season two. 
Per Cinema Blend, The Flash's first season was added to Netflix around the same time that the second season debuted on the CW — which was in October of last year. Therefore, with another October release date in the cards, it's safe to assume Netflix will unveil another season at that time, too. 
But there's even better news for fans of The Flash and The CW: Their shows will soon be streaming on Netflix at a much faster rate. According to a report from Variety, Netflix and The CW have reached a multi-year agreement that allows the network's scripted shows to be streamed on Netflix eight days after a series finale — starting with the network's 2016 to 2017 TV slate. 
The Flash falls under that category, so it's third season will ostensibly be available much sooner, and fans won't have to wait months for new content once the deal affects the series. 
In the meantime, we preach patience: more content will be up — in a flash.