Fact checking every Hillary Clinton health conspiracy theory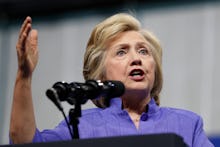 One of the many attacks Donald Trump has leveled against his opponent Hillary Clinton is that her health is so poor she's not fit to be president.
"To defeat crime and radical Islamic terrorism in our country, to win trade in our country, you need tremendous physical and mental strength and stamina," he said during a speech in Wisconsin last week. "Hillary Clinton doesn't have that strength and stamina."
And as he headed to Baton Rouge to tour the devastation from the deadly floods last week, Trump tweeted that the Democratic presidential nominee was "sleeping."
Former New York City Mayor Rudy Giuliani, a prominent Trump surrogate, doubled down on allegations that Clinton, 68, has serious health problems that she's hiding from the public. "Go online and put down, 'Hillary Clinton illness,' and take a look at the videos yourself," he said on Fox News Sunday.  
And John Jaggers, who runs Trump's campaign in Maryland and Northern Virginia, went even further this week, predicting that if elected, Clinton would not be healthy enough to serve out her first term.
"This woman is very, very sick and they're covering it up. You're not so much talking about Hillary Clinton being president for eight years, you're talking about Tim Kaine being president for eight years. Because that's what we're dealing with here," he said, according to the Loudoun Times.
So just what are the claims swirling around Clinton's health, and are any of them true?
The background: There's been widespread speculation that a concussion she suffered at her New York home in 2012 was either actually a stroke, or caused her brain damage.
A document purported to be from her doctor was shared on a Twitter account @HillsMedRecords, but was determined to be a fake.
It claimed that that she was diagnosed with "complex partial seizures and subcortical vascular dementia" after complaining about blackouts, uncontrollable twitching and memory loss. The account has since been shut down.
New life: Just last week, Trump senior adviser Katrina Pierson refueled those rumors in an interview on MSNBC, claiming that Clinton suffers from dysphasia, a language disorder caused by brain injury. She cited a news clips that showed Clinton shaking her head as a gaggle of reporters surround her.
"What's new are the other reports of the observations of Hillary Clinton's behavior and mannerisms, specifically with what you just showed in those previous clips, as well as her dysphasia, the fact that she's fallen, she has had a concussion," Pierson said, according to the Washington Post. "It's something that needs to be addressed. She's taken a lot of time off the campaign trail."
A reporter who was at the scene denied that Clinton was suffering a seizure, as suggested by Fox News' Sean Hannity. "Perhaps eager to avoid answering or maybe just taken aback by our volume, Clinton responded with an exaggerated motion, shaking her head vigorously for a few seconds," the reporter wrote in a piece explaining the event. "Video of the moment shows me holding out my recorder in front of her, laughing and stepping back in surprise. After the exchange, she took a few more photos, exited the shop and greeted supporters waiting outside."
In 2014, the Washington Post reported that Clinton, who is now a grandmother of two, requested pillows during a speech at the University of California in Los Angeles "in case the chair was too deep and she needed additional back support." That has since led to a flurry of photographs showing the former Secretary of State sitting with pillows behind her back, and a flood of right-wing conspiracies that she has a bad back.
And a photo showing Clinton being helped up a set of stairs has been circulating around the internet recently. It's unclear when the picture was taken, but many people have pointed out that there are plenty of other photos showing Clinton walking up stairs on her own.
Some have pointed out lumps under her jacket that they say must be a defibrillator, while others suggest that it could be a bulletproof vest, which is not uncommon for high-profile politicians to wear during public appearances.
Last summer, Clinton released a letter from her doctor of 15 years, who described the presidential candidate as "a healthy 67-year-old female whose current medical conditions include hypothyroidism and seasonal pollen allergies."
For her part, Clinton appeared on Jimmy Kimmel Live! this week to mock claims about her health. "I don't know why they are saying this. On the one hand, it's part of the wacky strategy, just say all these crazy things and maybe you can get some people to believe you," she said. "On the other hand, it just absolutely makes no sense. I don't go around questioning Donald Trump's health. As far as I can tell, he's as healthy as a horse."