Leslie Jones' nude photos were stolen — so naturally people blamed Leslie Jones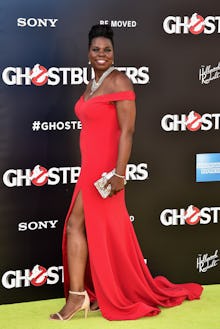 Actor and comedian Leslie Jones was targeted by hackers Wednesday. The Ghostbusters star's 
It was a violent breach of privacy and the latest in a wave of attacks Jones has faced from internet trolls over the last month. So naturally, people took to Twitter — and blamed Jones for having taken the photos in the first place:
That wasn't the worst of it: A number of Twitter users skipped the "why" entirely and went straight to expressing disgust at the thought of seeing Leslie Jones naked at all.
Their comments were objectively cruel while also managing to reduce Jones to a nude body that existed solely for their consumption and judgment:
The commenters appear to include both men and women of varying racial backgrounds, along with the expected cohort of anonymous "Twitter egg" types.
This is not an uncommon response to such circumstances: Similar victim blaming was directed at Jennifer Lawrence and other female celebrities after a massive iCloud hack resulted in their nude photographs being leaked to the public in 2014.
Jones previously became a target in July, when Milo Yiannopoulos — a notorious alt-right pundit and Twitter troll — led a coordinated series of racist and misogynistic attacks on her Twitter account. The attacks prompted Jones to temporarily leave the platform; Yiannopoulos had his account banned as a result. 
The ugly campaign seems to have stemmed from Jones' appearance in this year's women-led Ghostbusters remake, a sore point for male and alt-right trolls who claim it heralded too much woman and feminist influence in cultural spaces.
This latest doxxing marks a new low in the ongoing online assault against Jones — an entertainer whose only "crime" is being black, and a woman, in public.