Here's a full list of who's performing at the 2016 MTV VMAs — and what to expect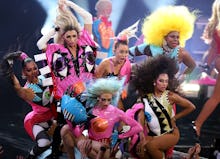 The MTV Video Music Awards is gearing up for another year of star studded performances and pop culture debauchery following last year's chaotic, twerk-filled event hosted by Miley Cyrus. 
The awards show is hoping to make a comeback in the ratings this year, after suffering its lowest ratings during the 2015 awards. They're enlisting help from several of music's biggest acts; including Britney Spears, Rihanna, Nick Jonas, Future and more. 
Here's everyone the network has announced will be performing so far.
Rihanna
Not much has been teased about Rihanna's hotly anticipated performance, except that she's up for one of the most coveted awards of the night — the Michael Jackson video vanguard award. 
The artist has been on a massive world tour named after her latest studio album Anti, and continues to steadily release one-off music videos including "This Is What You Came For" with Calvin Harris and "Sledgehammer" for the upcoming Star Trek film score. Expect surprises, bangers and presumably a whole lot of dirty dancing.
Future
Future is the most recent artist the VMAs have announced, via a short teaser video with a variety of shots from their recent interview with the Atlanta artist.
"My creativity comes from me being in the studio and my past situations," he says. "It's about mastering the tone for me. It's about mastering the melody. It's about mastering a style. It's about becoming one with the beat. It's about taking the beat places the beat never thought it could go."
"My music is a diary," he adds. "It carries volumes." Future latest project is Evol, or "love" backwards, which carries the former Purple Reign single "Wicked." Expect an explosive rendition Sunday.
Britney Spears
Spears' upcoming performance is being touted as a game-changing moment for the Glory singer and Queen of Pop's official return to the MTV VMA stage after 10 years. 
"She's not one to do the same thing she's done in the past," Jesse Ignjatovic, an executive producer for the show, told Entertainment Weekly. "It's going to be something you've not seen her do before. It's going to separate her from other performances." 
If true, it looks like Spears won't be snuggling up with a snake, making out with Madonna or lip-synching throughout her set. We're hoping for fire.
Nick Jonas and Ty Dolla $ign
Nick Jonas is hitting the stage with rapper Ty Dolla $ign to perform their breakout single off the former boy band artist's most recent solo album, "Bacon," Last Year Was Complicated. The track is a summer anthem, and will likely come with some a touch choreography and Jonas' always-pure vocals. 
Ariana Grande and Nicki Minaj
MTV announced Wednesday night Minaj and Grande would grace the VMA stage to perform their latest single, "Side to Side," off Grande's newest album Dangerous Woman. The two will drop the video for the song Sunday as well, so there will be plenty of hype built up surrounding the pair's set. The singers previously teamed up with Jessie J for their previous hit "Bang Bang" at the 2014 VMAs. Despite a slight wardrobe malfunction, the opening act was lauded as a killer performance, and fans expect nothing less this year. 
We'll continue to update this article as more artists are announced.