Mapping LA's cultural renaissance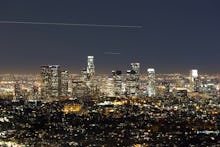 There was a time in the not­-so-distant past when Los Angeles was the butt of many a cultural joke. It didn't have the gravitas of New York; it didn't have the history of D.C. or Boston; it didn't have the moxie of Chicago, plus it has no winter, so what does LA know about life, anyway? The city has been plagued by the notion that all of its inhabitants are vapid, plastic, and fake. Sure, Hollywood and SNL's "The Californians" are to thank for a lot of that, but an authentic Los Angeles has emerged from behind the glare of film premiere searchlights to reveal a sprawling breadth of creativity and opportunity.
One of the hardest things to understand about LA is: Where is it, exactly? Los Angeles is 503 square miles of options. Looking for the beach? Santa Monica and Venice. Urban living á la NYC? DTLA. Have some kids and a nine to five career job? Well, there's the Valley.
There are so many iterations of Los Angeles that most of its residents can only speak to their own radius of work­-home-­play. Claiming one's neighborhood is what identifies Angelenos and dictates their cultural allegiances — and, more on-point, their musical  allegiances. Getting the most out of what each neighborhood has to offer can be intimidating at first — but it's really just a matter of knowing where to look.
Highland Park
Though "gentrification" is a 4-letter word, bands and creatives from all industries have been benefitting from it since Brooklyn became [insert eye-roll emoji here] Brooklyn. The LA neighborhood that has best succeeded in maintaining its neighborhood vibe while surviving an influx of hipster youth is Highland Park in Northeast Los Angeles. Nestled between Pasadena and Eagle Rock, Highland Park has quickly become the home for entrepreneurs in music and its creature comforts.
Its calling cards are its two thoroughfares: York Blvd. and Figueroa St. The two meet at a decidedly uninteresting intersection of a Mobil gas station and empty parking lot reserved for selling Christmas trees in December, but as they fan off in either direction you'll find the defining parts of the neighborhood and its music scene. York Boulevard is the home to music labels big and small, namely Stones Throw Records and Echo Park Records. Vinyl havens Gimme Gimme Records and Permanent Records keep turntables spinning, while La Cuevita and new neighborhood billiards­-bar-­turned-live-music-dive the Hi Hat offer cozy environs for garage bands just getting their feet.
Burger Records
The umbrella DIY indie label Burger Records has been pumping out cassettes for the past five years, with no signs of slowing down. They can name-check umpteen of your favorite bands and players (Kim Gordon, Bleached, No Parents, Cherry Glazerr, The Black Lips), and have put on the annual Burger Boogaloo festival with cult-­film director John Waters as its host, as well as the OC based Burgerama. The label has almost created a new genre in the music it reps — spazzy riffs with nasally vocals over pop hooks and droney lullabies can be claimed in equal measure as "totally a Burger band." Born out of the need for its founders to release their own band's music, they're beyond prolific, putting out an average of 300 releases a year.
The Smell
More infamous than famous, The Smell is as punk rock as greater LA gets, both in the types of bands it hosts and in its ethos as a drug­-free, alcohol-­free, all­-ages venue. The Smell first opened in 1998 in North Hollywood, but thanks to a revitalization in the re­-branded "NoHo Arts District," the rents rose and forced The Smell to find a new home.
It found itself in the dirt­-cheap and sketchy streets of Downtown, right at the cusp of Little Tokyo on Main St. The Smell has been home to promising indie bands like former trio Vivian Girls and current national touring pop punk band FIDLAR in DTLA since 2003, a time when indie was melding itself with mainstream (remember when The Strokes were brats straight out of boarding school?). Thanks to benefit shows through the years, The Smell has been able to stay in its current locale, its odorific alley entrance now flanked by loft buildings with outrageous rents and fine dining restaurants. Its days there may be numbered, however — recently, the club was blindsided when its building's owner put up demolition notices, inspiring them to launch a SaveTheSmell campaign on GoFundMe.
The Smell also has an off-shoot record label, aptly titled Olfactory Records. The roster name­-checks LA underground mainstays Abe Vigoda and one­-off releases from the likes of The Uphill Gardeners, Best Coast guitarist Bobb Bruno's band from the mid­-90s. The greatest part about The Smell these days is that despite all the growth around it, it is still a haven of dirty denim-­clad teens cooling off outside the venue after sweating out their angst in front of their newest punk idols. Some things should never change.
DTLA Arts District
The Arts District on the southeast edge of Downtown has been a haven for artists for the past 20 years, but with the revitalization of its neighboring border, the Historic Core, the Arts District has become a prize for real estate developers the world over. So much so that a DTLA outpost of SoHo House is set to open in the coming year. But for now, artists still have time before they are run out by NY­ and SF­-level rents. While the Core has the recently face-­lifted Regent Theatre, the place to see up­-and-­comers are the outdoor music space/indoor cocktail bar Villains Tavern or its reverse, the indoor stage and outdoor patio bar of the new Resident.
Los Angeles has been in the midst of a cultural revolution for years. And though the changes have been made in small increments, it's done wonders for the city's sense of pride. The Los Angeles of 2016 doesn't need to make excuses for itself; it just needs to enjoy the geographic gifts we've been given and let our overexposure to Vitamin D and revitalized neighborhoods and residents fuel the creative energy that brought people out here in the first place.