Delicious things happen when a tea company decides to make beer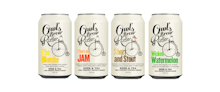 Tea and beer are two of the most popular drinks in the world, so it was only a matter of time before someone combined the two into one super beverage. 
Owl's Brew, a company that makes tea-based cocktail mixers, now sells cans of beer mixed with freshly brewed tea. While there are tea-infused beers available, the Owl's Brew Radler is the first product to simply mix beer with tea on the market, co-founder Jennie Ripps revealed over the phone. 
The Radler, which is similar to a Shandy, is a style of beer invented in Germany in 1922 for cyclists, Ripps said. It is traditionally a fifty-fifty mix of a lighter beer and a citrusy drinks like lemonade or lemon-lime soda. Owl's Brew's Radlers, however, feature a blend of 60 percent beer and 40 percent tea, making them slightly more alcoholic. 
Ripps and her co-founder Maria Littlefield first got the idea to swap the lemonade for tea while selling their cocktail mixer at trade shows. "At the end of a trade show, we poured ourselves a beer and mixed it with some Owl's Brew we had on hand," Ripps explained. "We really loved the flavor profile." They found themselves drinking the combination frequently, but couldn't find it ready at a store anywhere, so they decided to make the drink themselves. 
Each batch of Owl's Brew Radler has a base made from a proprietary beer that Littlefield and Ripps developed with the help of a brewmaster. ("We're really good at brewing tea, but learning how to brew beer was an eye-opening and amazing process," Littlefield said.) The beer is then mixed with organic tea that has been infused with a variety of fruit and botanicals. 
"Our product is technically double brewed," Ripps said with a laugh. "The tea is actually freshly brewed right next to beer and is dumped right into the beer by a machine after it is strained." 
The Owl's Brew team plans to launch four flavors of the beer. First up is The Blondie, which has wheat beer, English breakfast tea and plenty of lemon. Also hitting shelves is That's My Jam, a flavor that mixes amber ale with darjeeling tea, strawberry, pomegranate and lemon peel. Wicked Watermelon, a flavor slated to arrive next Spring, will star wheat beer, watermelon juice and white tea. And Short and Stout, a seasonal flavor made with a chocolate porter, black tea, chai spices, coconut milk and pineapple juice, hits stores this winter. 
The Owl's Brew Radlers are sort of the ideal drink for people who want to drink beer but don't actually love the taste of beer. A number of craft beers are intensely hoppy or bitter, but the tea-based railers are refreshing and light in flavor. Each 12-ounce can is also quite low in alcohol: The Blondie is just 3.8% alcohol by volume. Other light beers, like Heineken, are typically around 5% ABV. 
Owl's Brew is right on trend with its low-alcohol beer. These low-ABV drinks, also known as "session beers," are becoming increasingly popular across the U.S., Draft noted. Session beers are meant to be enjoyed in larger volumes across longer time periods, making it possible to have more than a couple of drinks without getting completely wasted. Considering that the tea-based Radlers, which taste like slightly hoppy riffs on an Arnold Palmer, are super easy to knock back — the low alcohol content is a good thing. 
Six-packs of Owl's Brew Radler cans will be available in stores across the Northeast starting this fall. They'll make the perfect companion to all of those autumnal recipes you've been waiting to cook.