Ohio voting: Here are the most important dates to know for the 2016 election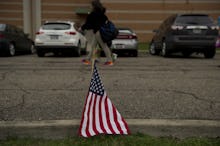 With polls showing Hillary Clinton on track to handily beat Donald Trump, Ohio voters may not be the deciding factor in picking the president in the way they have in past elections. But with Trump within a few percentage points of Clinton, Ohio's 18 electoral votes are still up for grabs. And Ohio's role as a bellwether cannot be underestimated: No Republican has won the White House without Ohio since 1860. 
If you're voting in Ohio, here are the dates to make sure you know so you can cast a ballot in the presidential election: 
Voter registration deadline
Ohio residents have until Tuesday, Oct. 11 to register to vote, 30 days before the election on Nov. 8.
When early voting begins
On Wednesday, Oct. 12, the day after registration closes, voters can cast an absentee ballot in-person at their county Board of Elections office. Absentee voting by mail begins the same day.
A federal court recently upheld a Republican law that shortened the early voting period and eliminated "Golden Week," a period where voters could register and vote early at the same time. Historically, minorities were more likely to take advantage of that period — a potentially decisive factor in a close election.
When early voting ends
Early voters can technically cast their ballots in-person through the day before the election. But the deadline to request an absentee ballot is noon on Saturday, Oct. 5. 
General election
Election Day is Tuesday, Nov. 8. Polls will be open from 6:30 a.m. to 7:30 p.m. local time. On Election Day, voters must vote at their designated precinct. Check with your county Board of Elections for more information on where to vote. 
Voters must provide identification, like a driver's license or utility bill. Ohio does not have Election Day registration, so voters must be registered before heading to the polls.