Donald Trump calls Hillary Clinton a 'bigot' amid confused backtrack on immigration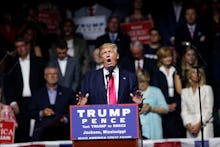 At a rally in Jackson, Mississippi on Wednesday, Republican presidential candidate Donald Trump deployed his most inflammatory race-based attack on Democratic nominee Hillary Clinton to date, saying his opponent is a "bigot" who exploits racial minorities for votes.
"Hillary Clinton is a bigot who sees people of color only as votes, not as human beings worthy of a better future," Trump told the crowd. "She's going to do nothing for African Americans; she's going to do nothing for the Hispanics; she's only going to take care of herself, her husband, her consultants, her donors. These are the people she cares about.
"She doesn't care about what her policies have done to your communities, she doesn't care," Trump added.
As Trump talked, social media users pinpointed the reaction of a woman standing behind Trump on stage when he said the word "bigot," seemingly shocked that the candidate went there.
The candidate continued that Democrats like Clinton had run "some of the inner cities for 50, 70, 80, even over 100 years and look what you have right now: poverty, no education, crime, you can't walk down the street with your child, we're gonna fix it, we're going to fix it. Hillary Clinton has no remorse. I will fight to create a better future for every American."
Trump's comments come amid a late campaign pivot ostensibly intended to reverse his atrocious popularity ratings with racial minorities. But said pivot has relied upon racial stereotypes of the black community as crime-ridden and poor. It has also been preemptively hampered by his lack of outreach to black, Latino and other minority organizations like the NAACP, as well as his use of racially inflammatory and sexist rhetoric on the campaign trail, which has left the indelible impression Trump is in fact the bigoted major-party candidate.
One of Trump's major surrogates and his former campaign manager, Corey Lewandowski, recently said on CNN Trump hasn't visit black communities because they are too dangerous.
Meanwhile, Trump has been trying to execute a turn-around on one of his main issues, immigration, by backtracking on his promises to deport all undocumented immigrants currently living in the U.S. In a town hall with Fox News personality Sean Hannity on Wednesday, Trump seemed to indicate he still did not support "amnesty" but was open to letting all but the "bad ones" remain. He also brought up "back taxes" in a seeming lift from previous immigration reform packages supported by Republicans that he himself criticized.
But in his speech in Jackson, Trump was parroting many of the same old anti-immigrant talking points he has throughout the rest of the race.
In other words, Trump's new plan is coming off as cynical and self-contradictory, as well as breathtakingly hypocritical given he wielded his hardline position on immigration as a cudgel against reform-friendly Republicans during the GOP primary.
Trump only fueled this perception during the Hannity appearance, when he seemed to be literally polling the audience on how much of a shift he could get away with.
The real message might not be a genuine appeal to minorities, but rather the Trump team attempting to convince Republicans spooked by his campaign that the candidate is not racist. His likely objective is to rally the rest of his party behind familiar racial double-talk, as well as draw attention away from the growing number of prominent GOP officials fleeing his campaign.
"I think [Trump] feels like he had the working-class white vote lined up; this is to broaden his coalition [and show] that he is not as intolerant of diversity as he seemed in the primary," Sacred Heart University politics professor Gary Rose told Mic's Celeste Katz on Wednesday. But "the bridges have been burned between Trump and the minority community in this country," he added, and the effort is coming "much too late."