'Mr. Robot' pulled off a great episode, and it didn't need Elliot to do it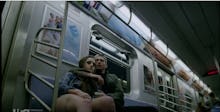 The eighth episode of Mr. Robot's second season was strange, and not because of the show's typical conventions (see: Elliot vomiting Adderall and promptly putting it back in his mouth, or an extensive Full House-esque sitcom parody).
Rather, it presented an episode in which its main protagonist, Elliot, was entirely absent on-screen — which last season, would've been an unthinkable move, even for a show that will continually buck the trends of cable television. 
But with Elliot's storyline in season two thus far an elaborate ploy — as revealed in the last episode, he's been in prison this whole time — spending time outside of Elliot's head was a refreshing change of pace. The episode, aptly titled "Successor," finally gives us ample screen time with fsociety's heir apparent, Darlene, whose time in charge of the hacktivist collective in Elliot's absence is a mixed bag, at best. 
For one, the group impressively hacks the smart home of an Evil Corp employee, Susan, in the season premiere, yet are blissfully unaware that she's returned to her home to find an entire fsociety headquarters stationed in her living room. (Seriously, did nobody think to keep an eye on the door?)
Then, Darlene's solution to the problem seemed premeditated: While the rest of the team scoured for blackmail in her emails to keep her quiet, Darlene was consigned to killing Susan. A taser to the chest — as the group noted, she had heart issues — was enough to do the trick, but not before Darlene provided some timely exposition as to why she hates Susan so much (per Darlene, she subtly laughed on TV during a press conference after her father and other Evil Corp employees were cancer stricken).
"I always knew there was a part of me that wanted to do this to her for what she did, but I figured when the time came, something would stop me," she tells Cisco. 
It's quite telling — and disturbing — to see Darlene murder someone with such resolve. However, it harkens back to the mystery of the Alderson family: We really don't know the traumatic extent of living in that household. We've seen the damage to Elliot — he talks to his dead father, and season one brought out snippets of his mother's abuse — but the only glimpses of Darlene's childhood were in the lens of Elliot's trippy sitcom sequence. 
If that's to be construed as authentic to their upbringing, it's not a good sign, either: In the sequence, Elliot's mother puts out a cigarette on Darlene's arm and slaps her unconscious.
If nothing else, "Successor" demonstrated how taxing it's been for Darlene to keep fsociety afloat in Elliot's absence. Without Elliot, she has had nobody she can fully trust. This is evidenced by the episode's closing moments, when Darlene discovers that Cisco has been keeping tabs on her and the rest of fsociety for the Dark Army. For what purpose, we don't know — but "Stage 2" of Whiterose's plan likely won't bode well for the group.   
In turn, it allows Elliot to enter the fray with the narrative in full swing: the Dark Army's plan unfolding, Angela's chilling rise in Evil Corp's corporate ladder and FBI agent Dom's investigation of the 5/9 attack narrowing down its suspects. 
As one Twitter user aptly encapsulated in GIF form, Elliot's about to enter a shitstorm. 
Elliot's return will be welcomed, but after half a season of illusory tricks with the audience that many figured out in the premiere, leaving our unreliable narrator for a week was a necessary respite. Now Mr. Robot has plenty of predicaments for Elliot — for the first time in a while, outside of his head — in season two's final stretch.