Orlando hospitals won't bill Pulse shooting victims for $5.5 million in expenses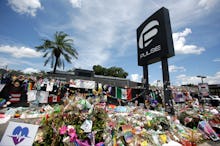 Two Orlando, Florida, hospitals announced Wednesday that they won't bill victims of June's Pulse nightclub shooting for out-of-pocket costs, which are estimated at over $5.5 million, the Orlando Sentinel reported. 
"The Pulse shooting was a horrendous tragedy for the victims, their families and our entire community," Orlando Health President and CEO David Strong said, according to the Sentinel. "During this very trying time, many organizations, individuals and charities have reached out to Orlando Health to show their support. This is simply our way of paying that kindness forward."
The Orlando Health network operates eight facilities in the area, and its main hospital — Orlando Regional Medical Center, according to the Sentinel — attended to 44 out of over 50 patients in need of emergency treatment after Omar Mateen opened fire in Pulse, a gay nightclub that was holding its weekly "Upscale Latin Saturday" party at the time. Forty-nine people died in the attack and many more were wounded.
As ABC News reported, Orlando Health will look down a number of avenues to find funding for the victims' bills, including "state and federal funds, private insurance, victim funds like the One Orlando fund, disability insurance, Florida's crime victim compensation program, funding sources established for individual victims, means-tested programs like Medicaid, as well as charity care provided by Orlando Health."
Florida Hospital — which treated 12 people, according to ABC — will also participate. "It was incredible to see how our community came together in the wake of the senseless Pulse shooting," the hospital's CEO, Daryl Tol, said in a statement, according to the Washington Post. "We hope this gesture can add to the heart and goodwill that defines Orlando."