Adele invites gay couple on stage, says she'll perform at their wedding for free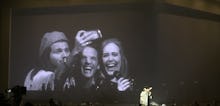 An Adele fan's dreams came true earlier this month when he and his fiancé were called on stage to take a selfie with the 25 singer during her stop at the Los Angeles Staples Center on her world tour. The two, Vince and Ryan, hit it off with the British powerhouse vocalist, asking her if she'd attend their wedding — an invitation she graciously accepted without hesitation.
"I spotted two people that I would like to meet, I always like to meet someone during my show," Adele said August 9 at the Los Angeles Staples Center, calling the two men to the stage. 
"We said before the show, and this is so weird because I had a dream this would happen, I'm not kidding," Vince said. "I said, 'If we see Adele, and we go up there, I want her to come to the wedding as a guest." 
Vince posted a video of the encounter on YouTube.
The fiancés are getting married next September in Ryan's home state of Montana, according to Entertainment Weekly. Adele told the couple she'd love to attend the wedding as the crowd cheered, noting her tour will be over by then. "What's your rate?" Ryan asked jokingly. 
"Don't worry, I'll do it for free," Adele replied. "Should we get a selfie?"
It's not every day you get to see Adele in concert, much less get invited on stage for a selfie with the "Hello" singer. But for her to accept an invitation to your wedding, going so far as to say she'll perform for free, is a dream come true — even if she doesn't wind up making it to the special night.