Violence in Syria has drastically shortened the life spans of its citizens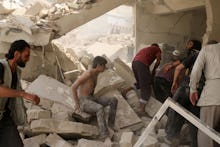 The turbulence of the last six years in the Middle East has done more than just destabilize the region — it's knocked as many as five years off the life expectancies of local populations.
A study published Wednesday in the Lancet examined health in countries such as Syria, Tunisia and Yemen from 1990 to 2013 found that since the Arab Spring began in 2010, a combination of increased violence and a collapse in health care has led to the drop of the region's average expected life span.
According to the study:
The region has historically seen improvements in life expectancy and other health indicators, even under stress. However, the current situation will cause deteriorating health conditions for many countries and for many years and will have an impact on the region and the rest of the world.
In Syria, a deadly and complex civil war that continues to ravage the country has resulted in a particularly precipitous drop in life expectancy.
According to the study, in 2010, the life expectancy for a Syrian man was around 75 years old. By 2013, that projection had fallen to 69. The numbers fell just as sharply for women: in 2010, a Syrian woman's life expectancy was 80 years old; in 2013, it was 75.
"Recent conflicts have shattered the basic (health) infrastructure in a number of countries," the study's lead researcher, Ali Mokdad of the Institute for Health Metrics and Evaluation at the University of Washington, told the Associated Press. "Millions of people are facing dire water shortages and poor sanitation that will lead to disease outbreaks."
The decrease in life expectancy has no doubt been hastened by the destruction and deterioration of the local hospitals, which have been hit by airstrikes with an increasing frequency.
In June, a hospital supported by Doctors Without Borders was decimated in Syria's Idlib province, killing 13 people. According to the Associated Press, the attack on the hospital, "deprived 70,000 people in Millis and surrounding areas of essential medical care."
On Aug. 19, Syrian government officials torched the last remaining hospital in Daraya, a Damascus suburb, with "an incendiary weapon similar to napalm," according to Al Jazeera.