Taylor Swift and Tom Hiddleston's first fight is so relatable for every long-distance pair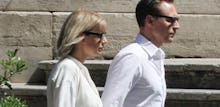 The blessed union of Taylor Swift and Tom Hiddleston started out with a profound bang earlier this summer. From Rhode Island to Nashville to London to Rome, they were photographed together on a near-daily basis back in June, always looking like they jumped right out of a damn rom-com and into our Twitter timelines.
But alas, this honeymoon period has apparently come to an end; don't they all? In Hiddleswift's case, the culprit was reportedly a fight — their inaugural fight! — over the long-distance nature of their relationship.
The scoop comes from "a close Swift insider," who told Us Weekly that Hiddleston's busy schedule has been a pain for Swift, who apparently got sick of waiting around in her Rhode Island mansion while he filmed the newest Thor movie over in Australia.
"There was so much going on, so it was hard making their schedules work," the source told Us. "And they were upset they couldn't see each other." The source added, "Tom is busier than her right now, so it's been hard."
And so they had a "major argument" about it.
For anyone in a in long-distance relationship, this is so relatable, right? Both parties getting frustrated with their lack of face time and then ultimately taking it out on each other in the form of an impassioned quarrel. 
What's not so relatable is the way Hiddleswift reportedly resolved the issue: by having Tom ride Taylor's private plane to Rhode Island "for a quick two-day stay before reporting back to work Down Under."
Stars — they're just like us, only very rich!