Leslie Jones hack: Milo Yiannopoulos just mocked the actress on Snapchat following leak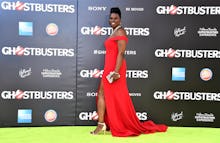 When a herd of internet trolls descended on actress Leslie Jones' Twitter account last month, Breitbart editor Milo Yiannopoulos was leading the charge, going so far as to share fake, digitally edited tweets to keep the deluge going strong.
After enduring days of harassment, Jones took a tearful hiatus from Twitter and later condemned the site for allowing abuse to thrive. But while CEO Jack Dorsey eventually responded by serving Yiannopoulos a lifetime Twitter ban, there's no stopping the men's rights mascot from wreaking havoc on other social media platforms. 
Following a leak of Jones' nude photos on Wednesday, Yiannopoulos appearing to mock the actress for the hack.
"Karma's a bitch," reads the text overlay on Yiannopoulos' first selfie. In a followup, he writes, "Shit, just heard about Leslie Jones. Had no idea!!! Ignore that karma thing lol." (Mic reached out for comment from Yiannopoulos but did not hear back.)
When it comes to harassment and abuse, it appears that Yiannopoulos is incorrigible. Last month, Mic's Jack Smith wrote that while Twitter was right to ban the conservative journalist, in doing so they created a "martyr for white nationalism." Yiannopoulos may be gone from the platform, but his band of followers, who saw him as an emblem for free speech, continue to spread his message.
And of course, the racist misogyny people like Yiannopoulos sling at Jones is only one example of the marginalization women of color face daily.  
"The abuse of Black women is a centuries-old American tradition," tweeted activist Feminista Jones on Wednesday. "It's as American as apple pie."