Katrina Pierson says Trump hasn't changed immigration stance, just the "words he's saying"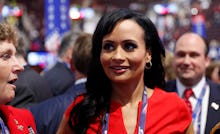 Donald Trump campaign spokeswoman Katrina Pierson opened herself up to jeers Thursday morning by asserting her boss "hasn't changed his position on immigration — he's changed the words that he is saying."
Pierson offered the brow-wrinkling argument during an appearance on CNN.
Fellow panelists reacted with a mix of laughter and confusion as Pierson attempted to parse out the GOP presidential nominee's position.
Trump captured the Republican presidential nomination with promises of building a wall on the U.S.-Mexico border, blocking Muslims from entering the country out of concerns about national security and deporting illegal immigrants en masse.
But of late, he's eased up on the deportation tough talk in what's been called everything but a classic general election tack to the center to a total abdication of his position.
Any press officer might have to talk fast to explain such a dramatic shift, but Pierson has built a particular track record of on-air stumbles while representing Team Trump.
She's blamed President Barack Obama for bringing the U.S. military into Afghanistan and for the 2004 death of Army Capt. Humayun Khan in Iraq. And despite her apparent lack of a medical degree, she also diagnosed Democratic nominee Hillary Clinton with the brain condition dysphasia.
The woman who inspired the #KatrinaPiersonHistory hashtag got the Twitterverse going again with her performance Thursday.