Apple is reportedly working on its own version of Snapchat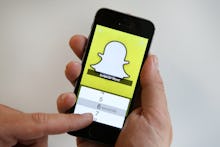 Apple is reportedly making a foray into social media. According to Bloomberg, Apple is "starting to develop a video-sharing app that allows users to record video, apply filters and drawings to the media." Sound familiar? These features strongly resemble Snapchat.
The new app, which is unnamed in the report, is "designed to be used mostly with one hand" and will allow users to shoot, edit and upload videos in under one minute. Users can share this media with contacts — presumably iOS only — and send clips to "existing social networks." Twitter is the example given, and prototype designs allegedly utilize Instagram's square-shaped video, which could hint at the photo-sharing app's involvement, as well.
Bloomberg adds that Apple's new social media app is being developed by the team responsible for Final Cut Pro and iMovie. This suggests an emphasis on video editing, but sources close to the project maintain it will be "simple" and appeal to users familiar with Snapchat and Instagram.
Apple is reportedly shooting for a 2017 release date, but the report warns the app could be "killed if it doesn't meet the company's timetable and expectations."
iOS 10, which is coming this fall, includes a number of features inspired by Snapchat. Larger emojis, handwritten messages, stickers and drawing ink on videos and photos are all coming to iMessage. Apple appears to be joining Instagram on a mission to "borrow" from Snapchat.