Dwayne "The Rock" Johnson just became the highest-paid actor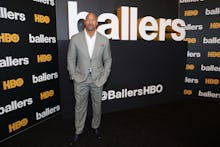 Forbes released its annual list of the highest-paid actors on Thursday, and we have a new champ this year: Dwayne "The Rock" Johnson. The wrestling-star-turned-actor raked in $64.5 million this year, which more than doubled his earnings from 2015 — surpassing last year's top earner, Robert Downey Jr.  
It's easy to see why too; just consider the number of films Johnson has lined up in the near future. There's his lead voice-acting role in Disney's Moana. There's Fast 8. There's Baywatch, Shazam!, Jumanji and more — along with his starring role on the HBO series Ballers where, fittingly, he's a former-athlete-turned-financial-manager.  
Johnson's versatility could help him in other ways too. Though it's unclear what kind of monetary gain would come from this, Johnson is reportedly set for another return to the ring to fight "candy ass" Vin Diesel. Yes, the supposed feud Johnson has with his Fast 8 co-star, which we might as well call Candy Ass Gate, could be an elaborate marketing ploy to hype up a match between the two stars at WrestleMania 33 next year, according to Uproxx. 
The event is just a few weeks before the release of Fast 8, though as Uproxx noted, it's not like the eighth film in the franchise — which has added Helen Mirren and Charlize Theron to its impressive cast — needs any help with publicity. 
Whether or not the WrestleMania rumors are true, one thing's clear: Johnson's candy ass makes a lot of money.